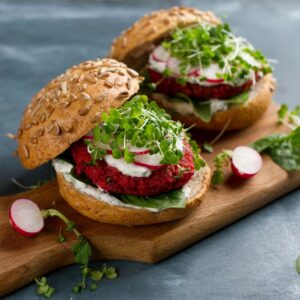 Indian Masala Burger
This Indian masala burger is a delicious fusion of traditional Indian spices and Western-style fast-food. The patty is made from ground meat infused with aromatic masala spices, and the addition of grated or pureed beetroots adds a unique sweetness and vibrant color. Served on a burger bun with an exotic yogurt coconut dressing, this burger is a flavorful and satisfying treat.
Ingredients
Coconut Raita
1

cup

plain yogurt

1/4

cup

shredded coconut

unsweetened

1

Persian cucumber

grated

1-2

tbsp

fresh cilantro or mint leaves

chopped

1

fresh green chilies or to taste

finely chopped
Masala Burger
1

lb

ground meat

beef, lamb, pork, or poultry

1

cup

raw beetroot, grated

3.5 oz

1

egg

1/4

cup

breadcrumbs or ground nuts

4

burger buns
Culinary Spice Kit
Turmeric, coriander, cumin, black pepper, fennel, cardamom, cinnamon, ajwan, nutmeg, cloves, saffron
Instructions
Coconut Raita
In a small BOWL, mix coconut, cucumber, and yogurt.

Season with cilantro, chili and salt to taste.

Cool in the fridge for about 30 minutes.
Masala Burger
In a large BOWL, add the meat, beetroot, egg, breadcrumbs, Masala Burger spices, and salt to taste (1/2-1 tsp). Knead well.

Form burger patties of the same size and thickness and create a slight indent in the center.

Preheat your GRILL or stovetop GRIDDLE or PAN over medium-high heat.

Cook the patties for about 4-5 minutes over medium-high on each side, or until they reach your desired level of doneness.

While the patties are cooking, you can lightly toast the burger buns on the grill or in a separate pan.

Once the patties are cooked to your liking, remove them from the heat and let them rest for a minute before your assemble your burgers.

Serve the delicious beetroot beef burgers with the coconut raita and your choice of sides like fries or a fresh salad.
Marceline Reid-Jaques
2022-12-14
Wonderful, flavorful meals using readily available ingredients!
My daughter gave me a subscription as a Christmas present while our families were quarantining together. It was so much fun! It introduced us to several cuisines that were totally new to us. The recipes were easy to follow and the spices were transformative - fresh and pungent and delicious.
The best way to try new dishes!
Be Inspired | Explore your boundaries and creativity