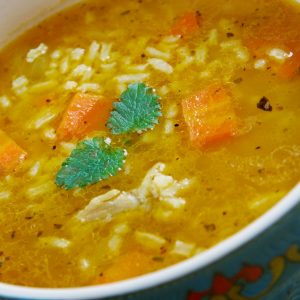 Indian Mulligatawny
Originally, Mulligatawny was a hot pepper sauce served with rice. It became very popular as a soup during the British colonial era in India. Today it is the national soup of India, and still very popular in England. There are many different versions. Try this one with tamarind as a main ingredient of the spice blend and add as much pepper as you like.
Ingredients
1

chicken breast

about 0.5 lb, cut into 1 inch pieces

1

cup

red lentils

well rinsed

1

cup

carrots + celery

mixed, diced

1

can

coconut milk

13.5 oz

2

cups

cooked rice

basmati recommended

1

onion

chopped

2

cloves

garlic

grated

inch

ginger

grated

oil

coconut, ghee, or vegetable

salt
Mulligatawny Culinary Spice Kit
Pouch [1]

Tamarind, coriander, cumin, yellow mustard, fenugreek, cardamom, cinnamon, turmeric, chili

Pouch [2]

Black pepper
Optional for Garnish
fresh cilantro or parsley

chopped
Instructions
In a large POT, heat 2 tbsp oil over medium heat.

Add onions, garlic, and ginger.

Cook 3 minutes, stirring frequently.

Add Mulligatawny [1] spices, vegetables, and Mulligatawny [2] spices to taste.

Cook 1 minute, stirring constantly.

Add lentils, coconut milk, 2 cups of water, chicken, and salt to taste.

Cover. Bring to a boil.

Turn heat to medium-low.

Cook 15 - 20 minutes until lentils are soft and chicken is cooked, stirring occasionally.

Remove the chicken. Shred-it with two forks and return it to the POT.

Cook shortly to reheat the chicken.

Optionally, add more Mulligatawny [2] spices to taste.

Serve soup over rice.

Optionally, garnish with cilantro or parsley.

Enjoy!
Notes
▪ Omit the chicken and skip the shredding and reheating of the chicken in the cooking instructions.
▪ Substitute carrots and/ or celery with other vegetables, for instance: parsnip, rutabaga, broccoli, cauliflower, Brussels sprouts, or leek.