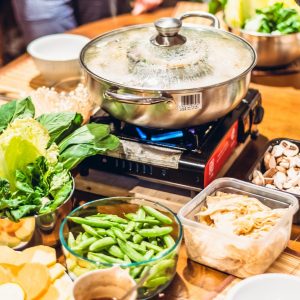 Chinese Sichuan Hotpot
Warming hotpot is one of the most popular dishes of the Chinese province Sichuan (aka Szechuan). The Sichuanese love to get together with family and friends spending hours sitting around the simmering pot, eating, and chatting.
Asian groceries offer hotpot bases with ingredients like monosodium glutamate and artificial flavors. The mild SpiceBreeze hotpot seasoning uses only pure and freshly ground spices.
Ingredients
2

quarts

bone broth

homemade or good quality store-bought

1

can

tomato paste

6 oz

2

small

onions

finely chopped

4

cloves

garlic

grated or pressed

1

inch

ginger

sliced

1-2

tbsp

sugar

or honey, or syrup

salt

vegetable oil

4

strainer cups or slotted spoons
Hotpot Culinary Spice Kit
Fennel, star anise, cloves, cinnamon, black peppercorn, Sichuan peppercorn (not recommended during pregnancy)
Suggested Dipping Ingredients
▪ thinly sliced meat of your liking

▪ large shrimp, sliced fish filet, or squid

▪ a variety of mushrooms, bok choy, savoy or napa cabbage, (sweet) potatoes, mung bean sprouts, cauliflower and broccoli florets
Suggested Sides
▪ cilantro, green onions, watercress, radish

▪ dipping sauces (see notes)
Instructions
In a medium POT, heat 1/4 cup of oil.

Fry onions over medium-low heat until translucent.

Add garlic and ginger.

Fry for 1-2 minutes until fragrant.

Add tomato paste, 1 tbsp sugar, and Hotpot spices.

Stir-fry for 5 minutes.

Add broth, and salt and sugar to taste.

Mix well. Bring to a boil. Turn off.
Serve
Place POT on a small stove in the center of the dining table. Keep the soup gently boiling.

Place your choice of dipping ingredients, dipping sauces, and sides on separate plates around it.

Enjoy!
Notes
Variations
Add chili peppers to taste to half of or all of the pot.
Substitute tomato paste with 1 cup of beer.
Alternative Dishes
Use the Hotpot spices for one of these recipes:
▪ Sichuan beef (Use all of the Hotpot spices per recipe.)
▪ Dublin spice bag (Use all of the Hotpot spices per recipe and add chili powder to taste.)
▪ Taiwanese ló͘-bah-png (Use about 1 tbsp of the Hotpot spices per recipe.)
Basic Dipping Sauces
Mix 1 tbsp each of soy sauce or tamari, rice or apple cider vinegar, and water. Optionally, add to taste green onions, cilantro, ginger, garlic, chilis (all finely chopped), or make several sauces with different combinations.
Mix 1/2 cup each of tahini, soy sauce or tamari, and rice or apple cider vinegar. Add 1-2 cups of water to taste. Optionally, add sugar, mustard, and/or sesame seeds to taste.
Mix 1/4 cup each of minced garlic, lemon juice, and vegetable oil. Add salt to taste.
Marceline Reid-Jaques
2022-12-14
Wonderful, flavorful meals using readily available ingredients!
My daughter gave me a subscription as a Christmas present while our families were quarantining together. It was so much fun! It introduced us to several cuisines that were totally new to us. The recipes were easy to follow and the spices were transformative - fresh and pungent and delicious.
The best way to try new dishes!
Be Inspired | Explore your boundaries and creativity