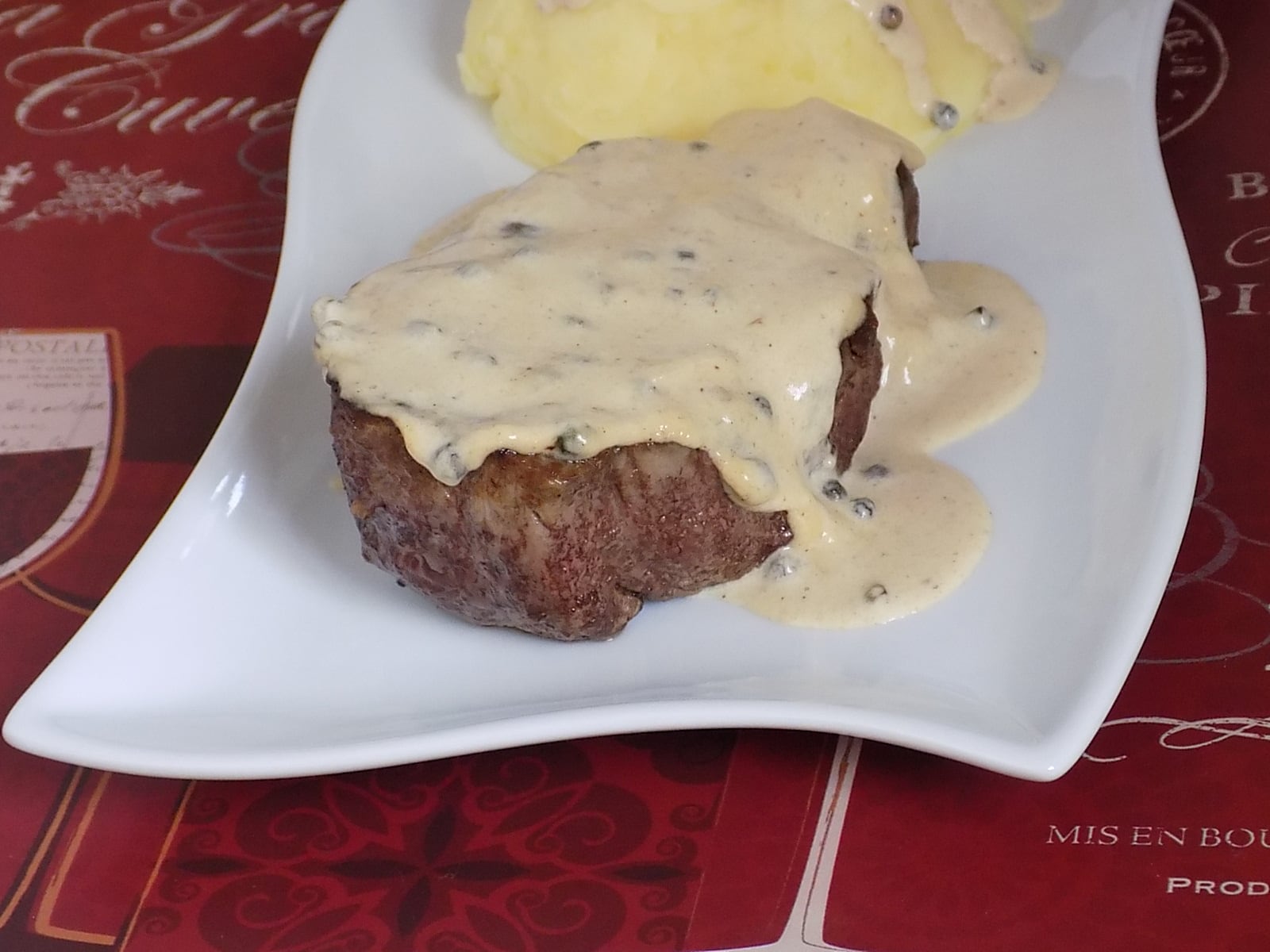 French Valentine's Dinner For Two
Enjoy a French Valentine's dinner for two with classic Filet Mignon au Poivre (Peppersteak) and discover the extravagance of a rose-flavored dessert. Filet mignon is the best choice, but you can use any type of steak. Precious green peppercorns give the creamy steak sauce a less pungent, woody-fruity note.
Ingredients
Shopping List
2

inch

filet mignon

1thick

2

tbsp

cognac

or brandy or similar

0.5

cup

beef broth

1

cup

heavy cream

1

lb

potatoes

cooked and peeled

8

oz

snow peas

3

cups

yogurt

plain, creamy

butter & oil

agave syrup or honey

milk

salt & pepper
Culinary Spice Kit
[1] Green peppercorns

[2] Rosebud powder
Instructions
Prepare 30 minutes before cooking
Soak Valentine [1] spices in 3 tbsp water.

Rub dry filets with salt and pepper to taste. Let them rest at room temperature.
Dessert
Mix yogurt with Valentine [2] spices.

Add syrup to taste.
Fry
In a PAN, heat 2 tbsp oil to smoking hot.

Fry filets 2 minutes on each side over high heat without moving them in between.

Add 1 tbsp butter. Fry filets over high heat until the desired doneness.

Transfer filet to a plate and cover with foil.

Careful of splatters, add cognac (see note) and the soaked Valentine [1] spices with the water.

Bring to a boil. Cook 2 minutes over high heat.

Add broth, cream, and salt & pepper to taste.

Bring to a boil. Cook until the sauce thickened.
Potatoes
Mash potatoes and reheat with some milk. Add salt & pepper to taste.
Peas
In a separate PAN, heat some butter and fry snow peas for about 5 minutes. Add salt to taste.

Enjoy!
Notes
Substitute filet with pork tenderloin or eggplant slices and adjust the cooking time.
Substitute agave syrup with raspberry or maple syrup, and/or add fresh raspberries.
Note:
On a gas stove, make sure to have a lid at hand in case of catching fire.