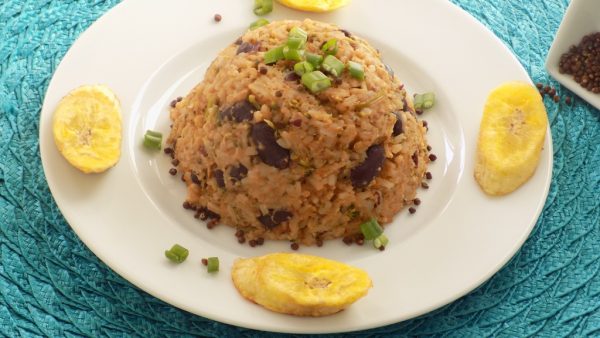 Waakye, a Ghanaian dish with beans & rice is a meal of itself or the center of a large number of side dishes. It's very popular all over Ghana. 
The name derives from waakye leaves that are typically used to turn the color of the dish to reddish-brown. Baking soda has the same effect. Try this basic dish with side dishes of your choice.
The spice kit includes grains of paradise. They are native to West Africa, mainly from Ghana, and a mild but pungent alternative to black pepper.
Waakye as a meal of its own  (first recipe below).
Chicken Waakye (second recipe below).
Add a side dish: 
Sour cabbage salad: see the recipe in the Currywurst recipe.
Fried plantain  Peel and slice a plantain. Sprinkle it with salt and fry in some oil until they are soft inside and golden brown outside. 
The Waakye Culinary Spice Kit includes the following spices:
[1] Smoked paprika, thyme, bay leaves[2] Grains of paradise