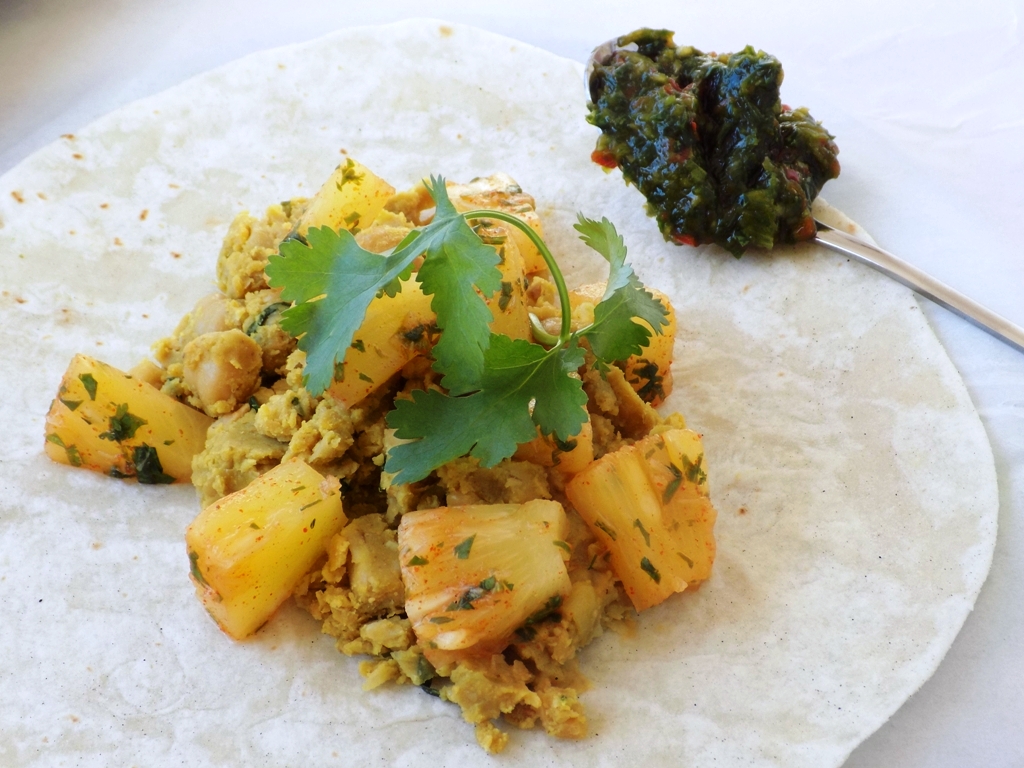 Caribbean Doubles
Caribbean Doubles is a trendy street food on Trinidad & Tobago. You can find them all over the islands. It's a dish made with garbanzo beans (meat optional) and served on two, overlapping small flatbreads, hence its name "Doubles". Though, the real deal - and heat - comes from the toppings.
Ingredients
Shopping list
2

cans

garbanzo beans

rinsed, 31 oz total

1

can

pineapple chunks

drained (keep the liquid), 20 oz

1

bunch

cilantro

finely chopped

1

English cucumber

grated

8-16

Flat bread of your choice

(e.g. naan or Mexican tortilla)
You might have
5

cloves

garlic

grated

1

shallot

finely chopped

1-3

lime for juice

oil

salt and pepper
Culinary Spice Kit Ingredients
Pouch [1]

Toasted cumin, amchoor, turmeric, yellow mustard, curry leaves, fenugreek, onion, ginger, coriander, cayenne, cilantro, garlic, cardamom, black pepper, cinnamon

Pouch [2]

Habanero chili pepper
Instructions
In a BOWL
Mix pineapples with 1/4 cup cilantro and half of the garlic.

Add to taste: pineapples can liquid, lime juice, Double Spices [2], and salt.

Cover and let rest for 1/2-2 hours.
In a large POT
Heat 2 tbsp oil. Add shallots and half of the garlic.

Fry over medium heat until the shallots turn translucent.

Stir-in Doubles Spices [1]. Add garbanzo beans, 1 1/4 cup of water, and salt & pepper to taste.

Cover and bring to boil. Reduce heat to medium-low. Cook for 15 minutes.

Mash some of the beans with a fork or potato masher.

Add 1 tbsp cilantro. Cook over low heat for another 5 minutes.
In a PAN
Quickly fry the bread with some oil.
Serve
Serve beans on bread, topped with pineapples and cucumbers.

Enjoy!