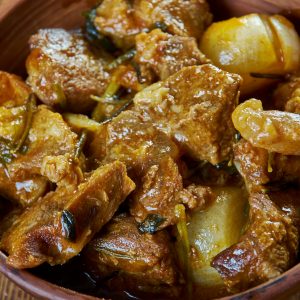 Belgian Carbonnade à la Flamande
Dating back to the Flemish region of Belgium in the 18th century, you can find La Carbonnade à la Flamande ("Flemish roasted meat") all over Belgium today. Every region has a special take on this recipe that gets passed down to every generation. The Belgians take pride in this rich beef and onion stew dish's trademark taste that comes from mustard, thyme, bay leaves, and most importantly, beer.
Ingredients
1.5

lb

stew beef

cubed

2

slices

bacon (optional)

cut into strips

3

medium

onions

finely sliced

1.5

cups

dark ale

preferably Belgian

2

cups

stock or broth

preferably beef

2

tsp

brown sugar

1

tbsp

red wine vinegar

2

tbsp

flour

oil

salt & pepper
Carbonnade Culinary Spice Kit
Parsley, garlic, mustard, thyme, allspice, bay leaves
Suggested Sides
French fries, boiled or mashed potatoes

Slices of (ginger-) bread with mustard

Belgian endives, carrots, shallots, and/or green cabbage, braised or steamed

Salad with Belgian endives and apples
Instructions
Season the meat with salt & pepper to taste.

In a large PAN, heat 1 tbsp oil over medium heat.

Fry the bacon until browned.

Take the bacon out and set it aside.

Fry the meat over high heat until all sides are brown. Don't prick the meat.

Take the meat out and set it aside.

Fry the onions until translucent.

Add the sugar. Mix well.

Let it cook until the onions start to caramelize.

Return the meat and bacon. Mix well.

Sprinkle with flour.

Add the beer, stock, vinegar, Carbonnade spices, and salt to taste.

Cover and let cook over low heat for about 2.5 hours until the meat is tender, stirring occasionally.

Turn off. Let rest for 15 minutes.

Serve carbonnade with your preferred sides.

Enjoy!
Notes
Substitute the beef with lamb, pork, or chicken.
Omit the bacon.
Add more or omit the sugar and vinegar. Add 2 sliced carrots and a bit more stock instead.