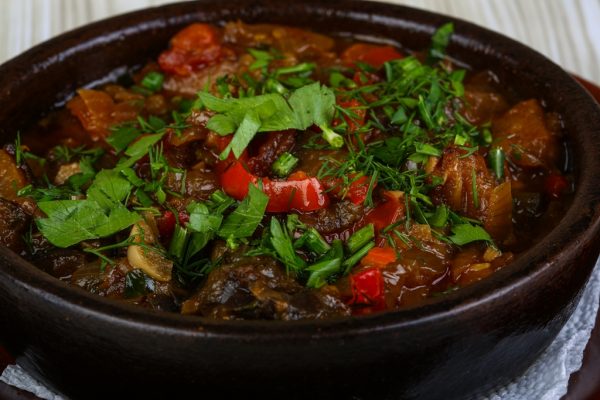 Caucasian Ajapsandal or Georgian Ajapsandali is a perfect summer dish since this eggplant stew with fresh herbs tastes best cold. While cooling, the vegetables can absorb the complex combination of typical Georgian spices. 
Lamb or beef can be added to this dish rich of vegetables with the additional instructions at the end of the recipe. Though, prepare for about 2 hours more to cook the meat tender. Faster is to serve Ajapsandali as a side to grilled meat.
Traditionally, it has a little heat from a fresh chili pepper, but this is up to you.
Substitute eggplant with zucchini for a change or if you prefer so.
The Ajapsandali Culinary Spice Kit includes the following spices:
Coriander, marigold, garlic, methi, paprika, caraway, black pepper, fenugreek, hyssop, mint, savory, chili