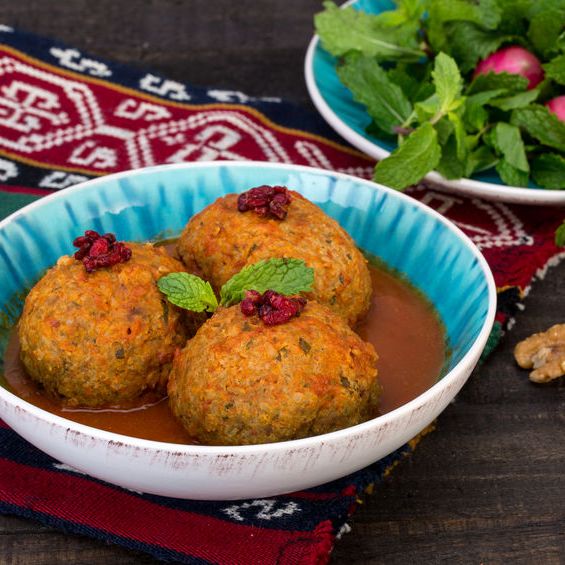 Giant meatballs filled with nuts and dried fruits
Koofteh Tabrizi Culinary Spice Blend:
Turmeric, cinnamon, cardamom, coriander, rose petals, black pepper, cumin, mint
Indispensable Ingredients
1 lb ground meat (beef, lamb, or any other)
1 egg, 1-2 onions, tomato paste or puree or fresh tomatoes
parsley and/or other herbs (optional)
flatbread, cooked rice, couscous, or boiled potatoes
(lettuce) salad, radish, herbs,

sautéed

spinach,
or any other steamed or cooked vegetables that you prefer
Optional Recommended Ingredients
Special meatball ingredients:
1/3 cup yellow split peas
1 cup cooked rice (you can skip those for a more standard meatball version)
Optional filling or topping:
4 tbsp chopped nuts (walnuts)
1/3 cup dried fruits (cranberries)
1 egg (optional filling, if you like it)
Select Your Recipe - All Versions or just the Easiest 'The Breeze Way'
Our Persian advieh spice blend includes turmeric, cardamom, roses, and mint.
Nuts and dried fruits as filling or topping.
Split peas and rice are mixed with the meat.
The authentic meatballs are gigantic to allow for a filling. Their preparation takes a bit longer. We recommend this version for home chefs looking for a challenge.
Here are some suggestions to save preparation time:
Make the recipe when you have leftover rice.
Cook the rice and the lentils up to 3 days beforehand. Tip: Let it cook while you prepare a different dinner.
There are plenty of ways to make the recipe easier while keeping the incredible flavor. In the order easy to easiest:
Skip the filling, and make standard size meatballs.
The Breeze Way:
Skip the split peas and rice.
Just reduce the herbs to 1 tbsp chopped herbs and add 2 tbsp breadcrumbs or almond meal.
Make your standard meatball-tomato sauce recipe and season it to taste with the Persian spice blend.
If for any reason, your meatballs don't hold the form or fall apart during cooking in the pot, you won't loose any of the flavor. Just crumble them up to mix with the sauce and cook them shorter, about 15 minutes.
For any other questions, please send us an email [click on icon on the top left] or contact our support team [click on icon on the bottom right].