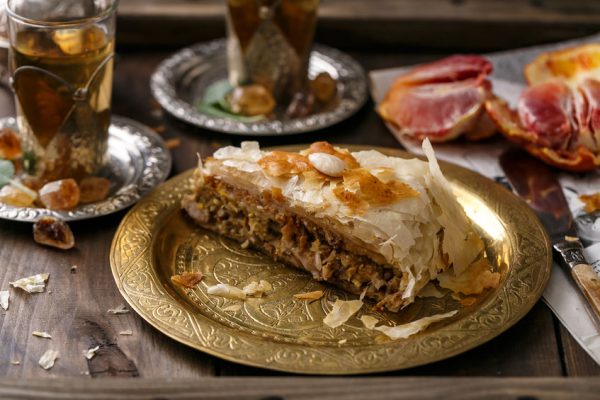 B'stilla, also called pastilla, is a savory-sweet pie with precious saffron in a crisp phyllo-style wrapping. It's an indispensable menu item on festive occasions like weddings. 
Formerly made with pigeons, today one of the most popular versions is filled with chicken and almonds. Alternatively, go for the simple stew version or the Chicken Olives Tagine recipe.
The B'stilla Culinary Spice Kit includes the following spices:
Ginger, black pepper, cinnamon, turmeric, saffron
Substitute sugar with 1/3 cup soft dried prunes or apricots, finely sliced.

Alternative simple stew version: 
Follow only the step under Fillings #2 until the chicken is cooked. Mix 1-2 tbsp almond butter into the sauce and serve over couscous or potatoes.
Alternatively, use the B'stilla spices for the Chicken Olives Tagine recipe here.