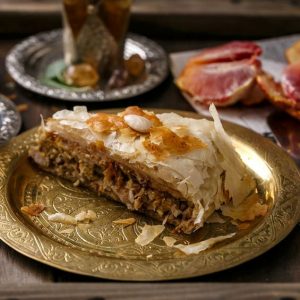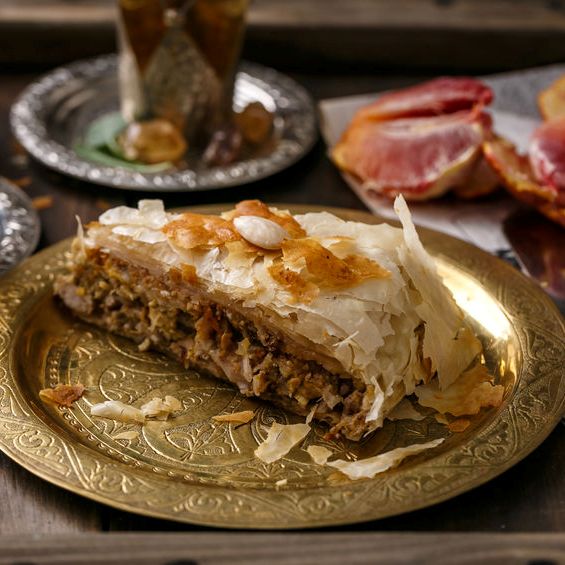 B'stilla
Ingredients
Ingredients
1.5

lb

chicken breast or thighs

cut into 1-inch pieces

8

oz

phyllo dough

filo, 20 sheets

1

large onion

finely chopped

3

eggs

whisked

2

tbsp

chopped parsley

1/2

cup

ground roasted almonds

1/4

cup

powdered sugar

salt & pepper

butter
Optional Garnish
powdered sugar

cinnamon, whole almonds
Culinary Spice Kit
ginger

black pepper, cinnamon, turmeric, saffron
Instructions
Fillings
#1 - Mix almonds with sugar. Set aside.

#2 - In a POT, melt 2 tbsp butter over medium heat. Add onions and fry until translucent. Add chicken, parsley, B'stilla spices, and salt to taste. Stir-fry for 3 minutes. Add 1 cup of water. Cook for about 20 minutes until the chicken is soft. Take chicken out. Continue to cook the sauce uncovered over medium-low heat until no liquid is left. Stir in eggs and cook for about 2 minutes. Adjust salt & pepper to taste. Turn off.

#3 - Let chicken cool, then shred it.
Assembly
Cover a PIE DISH with overlapping phyllo sheets and about 1 inch hanging over the edges of the dish. Add layers of the fillings: #2 (sauce), #3 (meat), #1 (almond-sugar). Cover with overlapping phyllo sheets. Spread a thin layer of butter on top.
Bake
Preheat OVEN to 350°F.

Bake B'stilla for 30-40 minutes.

Serve & enjoy!
Notes
▪ Substitute sugar with 1/3 cup soft dried prunes or apricots, finely sliced.
▪ Alternative simple stew version: Follow only the step under Fillings #2 until the chicken is cooked. Mix 1-2 tbsp almond butter into the sauce and serve over couscous or potatoes.
▪ Alternatively, use the B'stilla spices for the Chicken Olives Tagine recipe here.