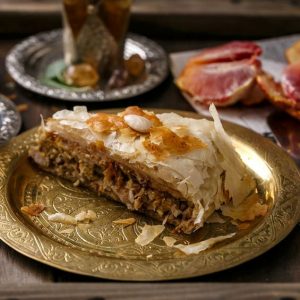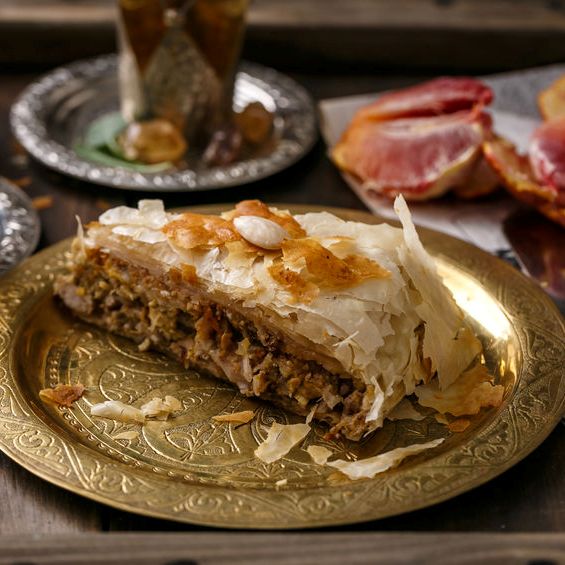 B'stilla
B'stilla, also called pastilla, is a savory-sweet pie with precious saffron in a crisp phyllo-style wrapping. It's an indispensable menu item for festive occasions like weddings. Formerly made with pigeons, today one of the most popular versions is filled with chicken and almonds. Alternatively, go for the simple stew version or a different tagine recipe (see notes).
Ingredients
Protein
1.5

lbs

chicken breast or thighs

cut into 1-inch pieces

3

eggs

whisked
Fresh Produce
1

large

onion

finely chopped

2

tbsp

chopped parsley
Packaged Goods/Staples
1/2

cup

ground roasted almonds

1/4

cup

powdered sugar[1]

8

oz

phyllo filo dough

(18 sheets)
B'stilla Culinary Spice Kit
ginger, black pepper, cinnamon, turmeric, saffron
Optional Garnish
powdered sugar & cinnamon

whole almonds
Instructions
Filling #1 Almond Sugar
Mix almonds with sugar[1]. Set aside.
Filling #2 Sauce
In a POT, melt 2 tbsp butter over medium heat.

Add onions and fry until translucent.

Add chicken, parsley, B'stilla spices, and salt to taste. Stir-fry for 3 minutes.

Add 1 cup of water. Cook for about 20 minutes until the chicken is tender.

Take the chicken out. > Next see Filling #3.

Continue to cook the sauce uncovered over medium-low heat until no liquid is left.

Stir in eggs and cook for about 2 minutes.

Adjust salt & pepper to taste. Turn the heat off.
Filling #3 Meat
Use the chicken cooked in the step for Filling #2.

Let the chicken cool, then shred it.
Assembly
Cover a 9-inch PIE DISH with overlapping phyllo sheets and about 5 inches hanging over the edges of the dish.

Add layers of the fillings in this order: #2 (sauce), #3 (meat), #1 (almond-sugar).

Cover with the overlapping phyllo sheets.

Spread a thin layer of butter on top.
Bake
Bake B'stilla for 30-40 minutes.

Let it cool a bit.
Notes
[1] Recommended: Substitute sugar with 1/3 cup soft dried prunes or apricots, finely chopped.
Alternative simple stew version
Follow only the step under Fillings #2 until the chicken is tender.
Mix 1-2 tbsp almond butter into the sauce and serve over couscous or potatoes.
Alternatively
Use the B'stilla spices for a different tagine recipe:
Tagine with prunes
Tagine with olives