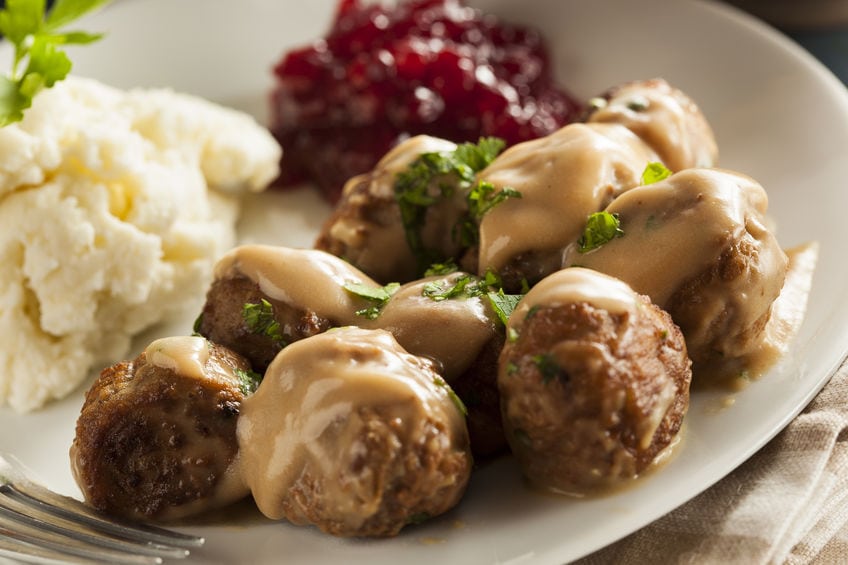 Köttbullar
Ingredients
Shopping list
1

lb

ground meat

(half beef and pork or any to your liking)

1

lb

potatoes

boiled, peeled

1

English cucumber

finely sliced

1

jar

berry jam*)

1/4

cup

breadcrumbs
You might have
1/2

cup

milk

plus some for the potatoes

2

tbsp

butter

1

egg

1

tbsp

agave syrup

or honey or sugar (or to taste)

1/8

cup

vinegar

salt & pepper
Sauce
2

tbsp

butter

3

tbsp

flour

1

cup

milk

1

cup

broth
Optional
Fresh parsley or dill

finely chopped
Culinary Spice Kit
Onions, white pepper, allspice, black pepper, yellow mustard, ginger
Instructions
Pickled Salad
In a BOWL, mix 1/3 cup of water with the vinegar and salt to taste. Sweeten to taste. Mix well.

Add cucumber slices and mix well.

Optionally, add fresh parsley or dill.

Let it rest in the fridge for 2 to 24 hours.
Meatballs
In a BOWL, whisk the egg.

Add Köttbullar spices, milk, and breadcrumbs. Mix well. Let it soak for 10 minutes.

Add the meat and salt to taste (1 tsp recommended). Knead until everything is well combined. Don't overdo it.

Form little meatballs.

In a PAN, melt 2 tbsp butter over medium heat.

Fry the meatballs until they are cooked through.

Shake the PAN occasionally to brown the balls all around.
Sauce
In a small POT, melt 2 tbsp butter over medium heat.

Add flour and gently whisk for about 3 minutes until it changes color.

Whisking continuously, add milk and broth and bring to boil over medium heat.

Turn heat to low and cook for 15 minutes, stirring occasionally. Season with salt & pepper to taste.
Mashed potatoes
Mash the potatoes and reheat them with a little milk.

Add salt to taste.
Serve
Serve the meatballs with the salad, mashed potatoes, jam, and optional sauce. Enjoy!
Notes
*) Lingonberry is the best choice, available, for instance, at IKEA stores. Raspberry or blueberry jam works fine as well. Or, cook cranberries with some water and sugar into a thick sauce. Or, serve just with fresh raspberries or blueberries.
Substitute pickled cucumber salad with any other pickled vegetable that you prefer.
Substitute breadcrumbs with flour or ground nuts.