A Trio of Cheese, Greens, and Dough
Greek spanakopita is a delectable savory pastry filled with spinach and feta cheese, enveloped in delicate layers of phyllo dough. It is a beloved dish in Greece, commonly enjoyed as both an appetizer and a main course.
Our recipe provides versatile options, allowing for variations that cater to vegan, lactose-free, or gluten-free preferences.
Spanakopita Spice Blend
Oregano, dill weed, garlic, black pepper, cinnamon, dill seed, mint, chilies, nutmeg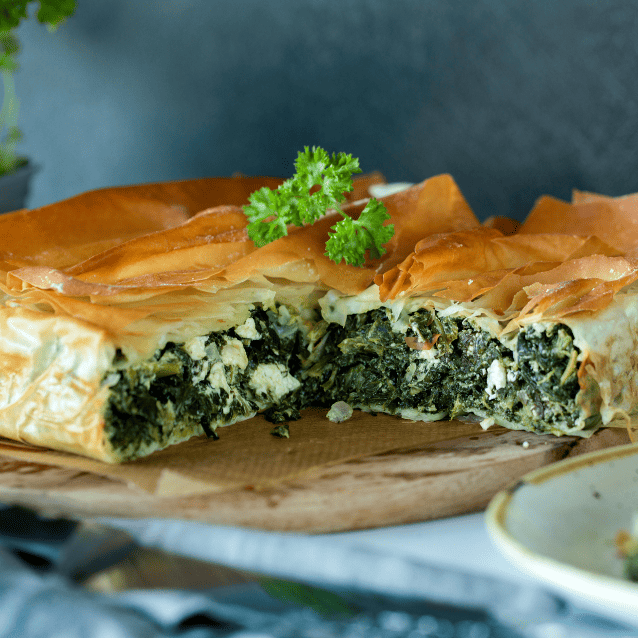 NEW! Ingredient Mix & Match Cheat Sheet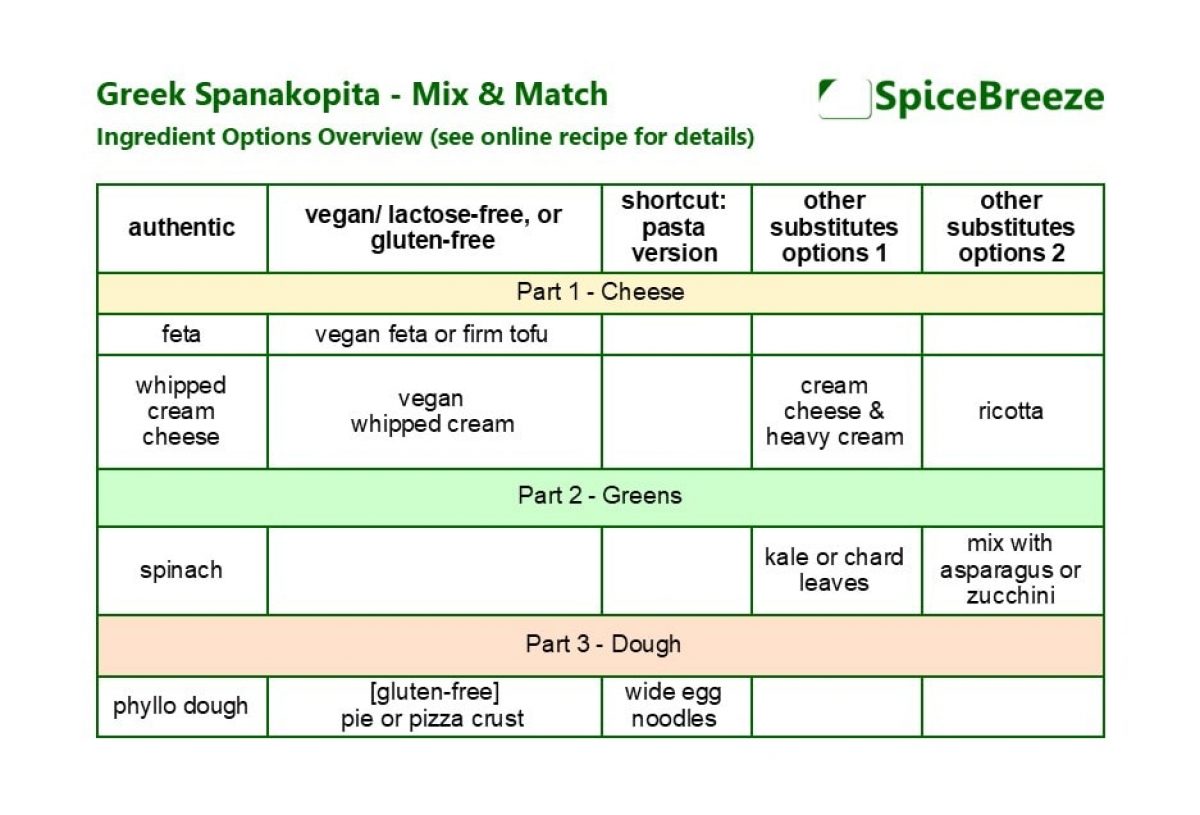 For your convenience, we have prepared a cheat sheet to assist you in selecting your desired ingredients for the recipe. Take a look below to discover how you can effortlessly combine and customize the components to craft your own personalized meal. To have a handy reference readily available, feel free to download the accompanying image.
Feta cheese is the key ingredient in Greek spanakopita, providing its distinctive texture. For those seeking a vegan and non-dairy substitute, options like vegan feta or firm tofu can offer a similar texture. Alternatively, if you have a preference for a different type of cheese, we offer a pasta variation for you to try. However, please note that this version deviates significantly from the original.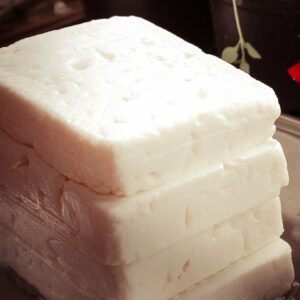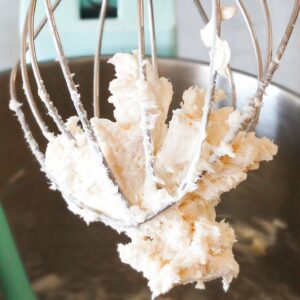 If you're looking to make a delicious spanakopita, the feta cheese you find at your local grocery store may be too dry, especially if you opt for crumbled feta instead of a block. But fear not! We have a tip that will ensure your dish is anything but dry. Simply add a small amount of a different type of cheese, such as whipped cream cheese or cream cheese with whipped heavy cream. Another great option is ricotta. These additions will make a world of difference and take your spanakopita to the next level.
Spinach is the ideal choice for an authentic spanakopita. Excellent substitutes can be found in the leaves of any type of chard or kale. If you wish to include the stalks as well, an extra step is needed to soften them. Another delightful variation is to incorporate green asparagus or zucchini, if you have the time and desire to experiment further.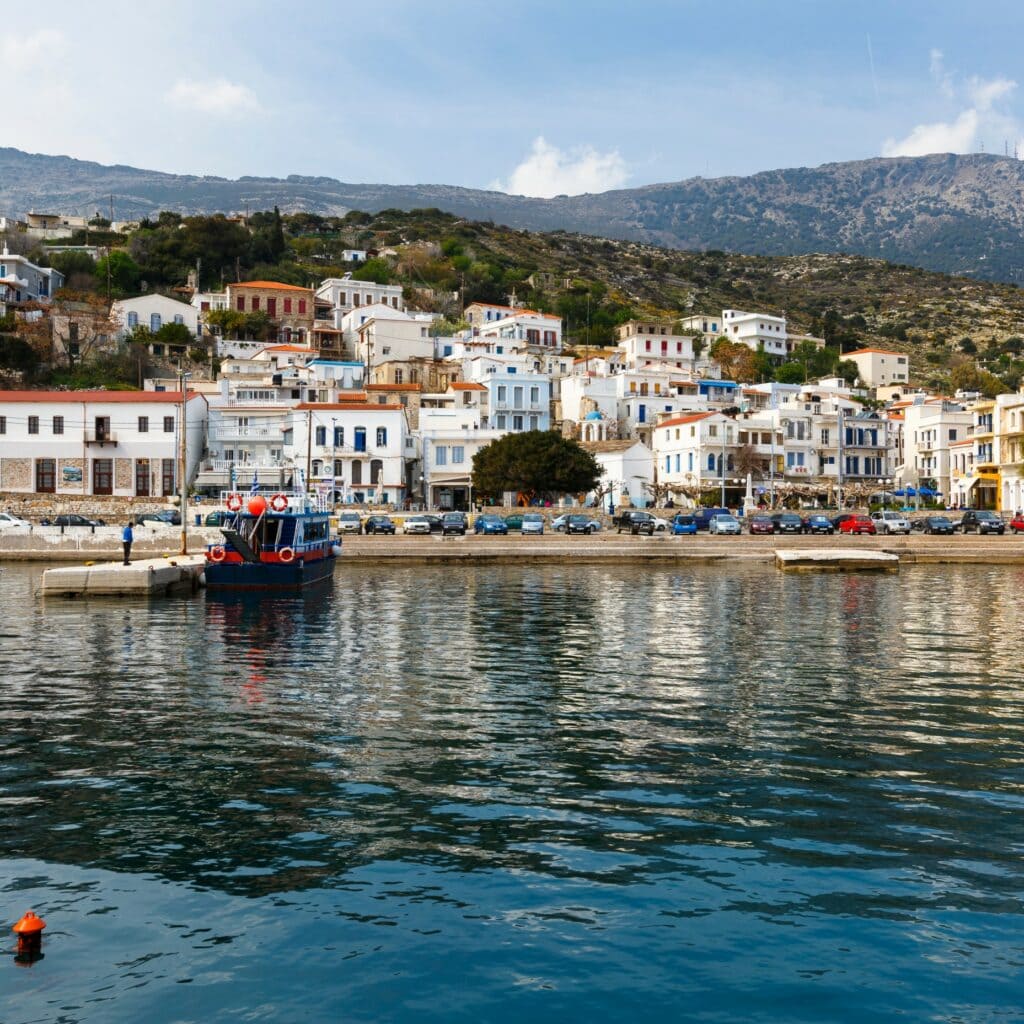 Ikaria - A Greek Island of Longevity and Vibrant Culture
Discover the enchanting Greek island of Ikaria in the Aegean Sea, renowned for its exceptional culture and remarkable population of centenarians. Learn about their healthy lifestyle choices and close-knit community that contribute to their longevity. What can we learn from them? Would you abandon your current lifestyle for a potentially longer life on Ikaria? The island is also famous for its festivals and celebrations. One of the most popular is the Panigiri, which takes place in different villages throughout the summer months. These festivals are a great opportunity to experience traditional Greek music, dance, and food. See more on our 
YouTube channel
. Carefully selected for you! Plus, on our 'World Music' playlist: Greek music & dance live from the 
Panigiri festivals.
Phyllo Substitutes - Up to a Change?
Authentic spanakopita is traditionally made using phyllo dough. As a gluten-free alternative, we highly recommend our almond pie crust. However, if you're looking to reduce preparation time significantly, you can opt to bake the spanakopita filling on a pizza crust or serve it on a bed of wide egg noodles. These shortcuts can help expedite the process while still providing a delicious result.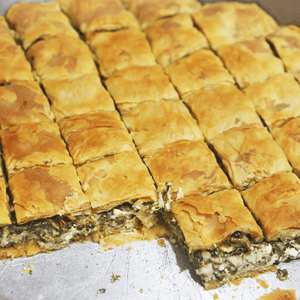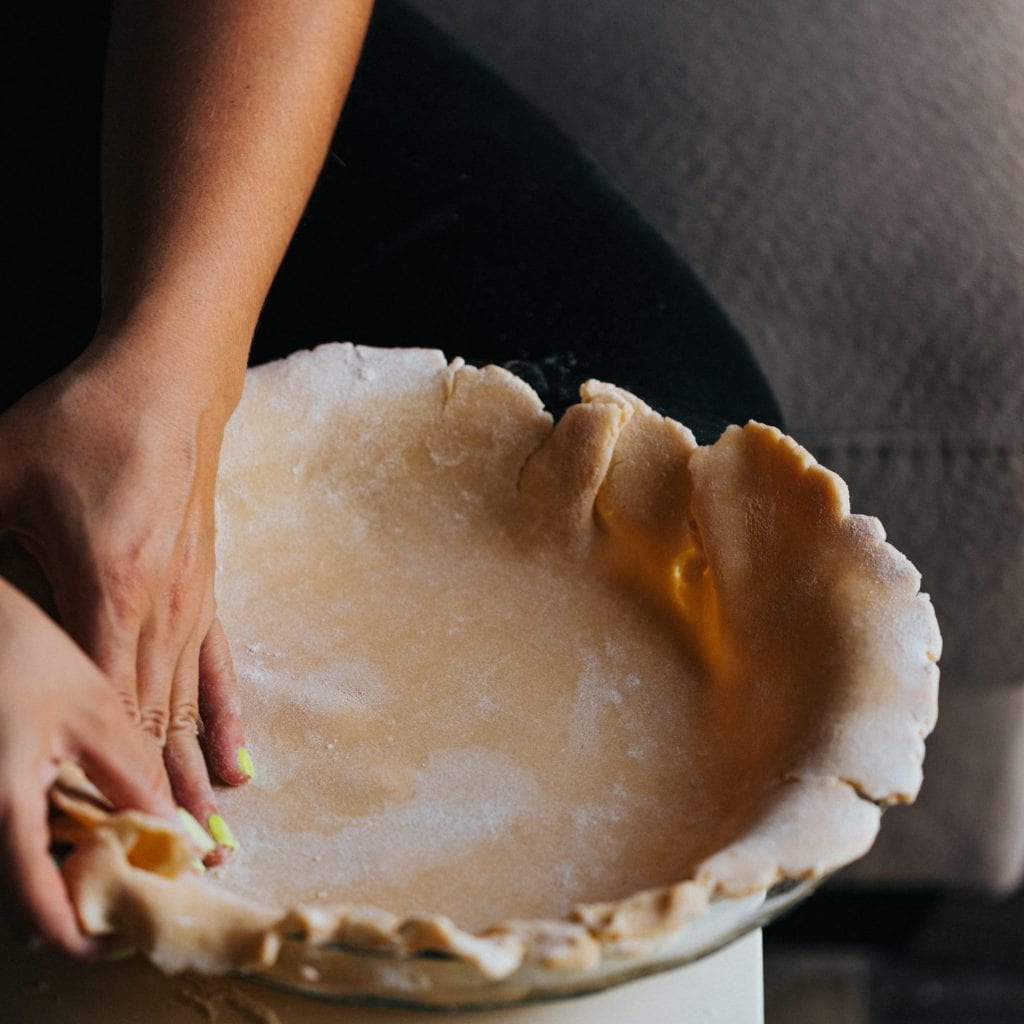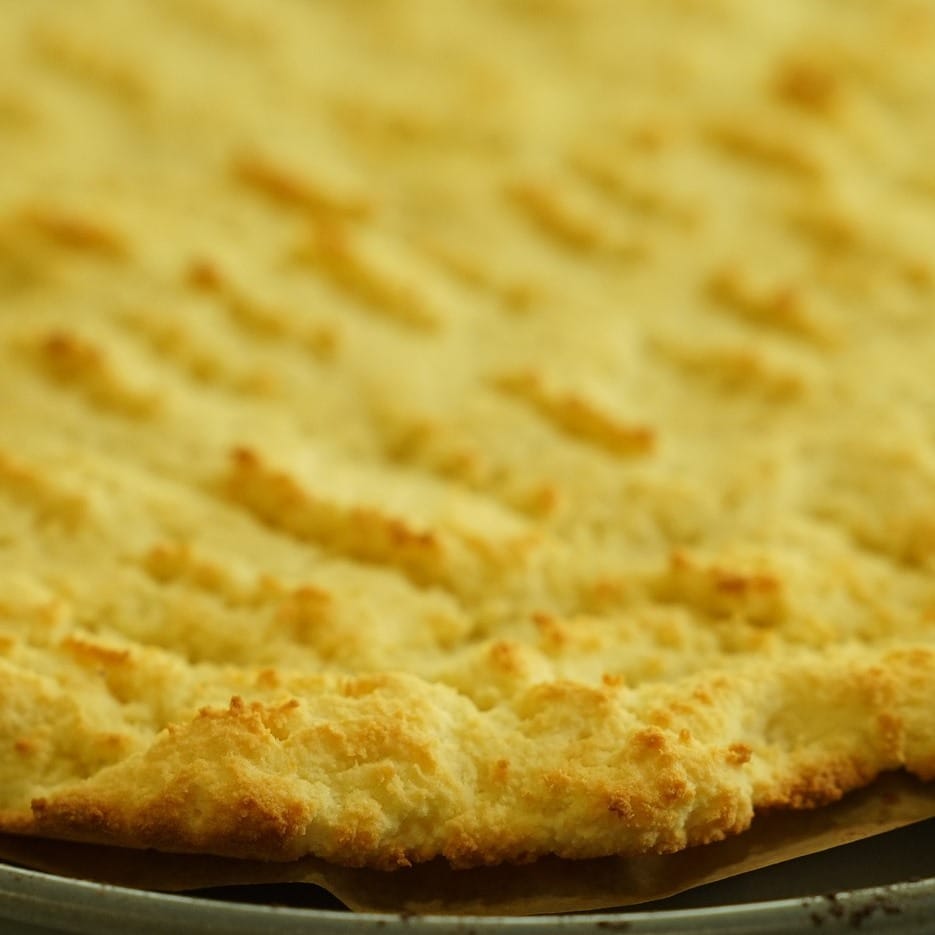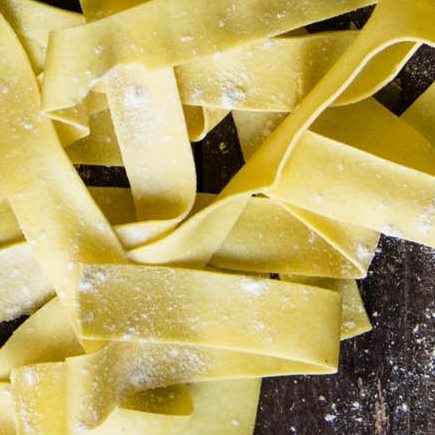 Give Greek spanakopita a try and savor its delightful flavors. Once you're hooked, consider adding it to your regular dinner rotation, experimenting with a unique twist each time. For your convenience, our shop offers a specialized spanakopita spice blend, ensuring you have everything you need to enhance its taste. Stock up now and elevate your spanakopita experience.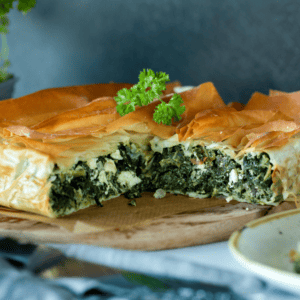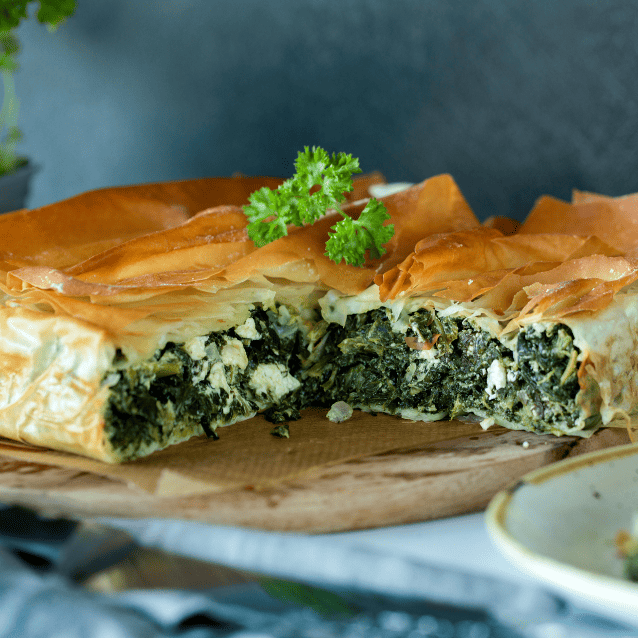 Greek Spanakopita
Greek spanakopita is a savory pastry made with spinach and feta cheese, wrapped in layers of phyllo dough. It is a popular dish in Greece and can be served as an appetizer or main course. Our recipe offers variations to substitute spinach and phyllo dough or make the dish vegan, lactose-free, or gluten-free.
Ingredients
Protein/Dairy
10

oz

feta cheese [1]

crumbled

6

tbsp

whipped cream cheese [2]
Fresh Produce
10

oz

spinach [3]

roughly chopped

4

green onions

sliced
Packaged Goods/Staples
20

sheets

phyllo dough [4]

(9 x 14 inches)

olive oil [5]

salt [6]
Culinary Spice Kit
Oregano, dill weed, garlic, black pepper, cinnamon, dill seed, mint, chilies, nutmeg
Suggested Sides
▪ mixed salad with lettuce or cucumber

▪ grilled rosemary lamb chops

▪ grilled or fried chicken pieces
Instructions
Option 1: Prepare Spinach, Chard, or Kale Leaves [3]
Cook the spinach in boiling water for 30 seconds.

Scoop the spinach out and transfer it to a strainer.

Let it drain while preparing the next step.
Option 2: Prepare Leaves and Asparagus, Zucchini, or Chard or Kale Stalks [3]
In a PAN, heat 2 tbsp oil over medium heat.

Fry the vegetables until tender.

Start with the asparagus, zucchini, or chard or kale stalks.

Add the leaves when the other vegetables are almost tender.
Prepare Filling
In a BOWL, mix all the cheese and vegetables with Spanakopita spices and salt to taste [6].
Prepare Phyllo Dough Version (Authentic) [4]
Place 10 sheets of phyllo dough into a 9 x 12 BAKING DISH, brushing oil between each layer.

Spread the spinach mixture evenly over the phyllo dough.

Place 10 more sheets of phyllo dough on top, brushing oil between each layer.

Brush the top layer with oil.

Cut the pie into 12 pieces.
Bake & Serve
Bake until golden brown, 30 to 45 minutes.

Let it cool for 10 minutes before serving with your preferred sides.
Notes
[1]
We recommend to buy feta cheese in a block and chop it into small crumble size pieces. The readily-crumbled feta cheese is often very dry.
Substitute feta cheese with chopped firm tofu (drain it 30 minutes before using it) or vegan feta.
[2]
If only not-whipped cream cheese is available, substitute 2 tbsp cream cheese with 2 tbsp whipped heavy cream.
Substitute whipped cream cheese with ricotta or vegan cream cheese.
[3]
Optionally, add 5 to 10 oz more spinach.
If the stalks of the spinach are not soft, remove them and follow the cooking step option 2. 
Cooking Step Option 1 (leaves only): Substitute all or half of the spinach with baby kale, or with the chopped leaves of kale or chard. Remove the stalks before weighing.
Cooking Step Option 2: Substitute or mix the spinach with green asparagus, zucchini, or the stalks of chard or kale. Chopped them in bite-size pieces. Recommended amounts:

5 oz leaves + 10 oz asparagus or zucchini or stalks
10 oz leaves + 5 oz asparagus or zucchini or stalks
[4] Options to substitute the phyllo dough:
Pour the filling into a pie crust. (gluten-free recipe)
Spread the filling on a pizza crust.
Cook 12 oz wide egg noodles. Drain. Place them into the baking dish. Spread the filling on top. Bake as directed for the phyllo dough.
[5] Substitute olive oil with melted butter or any vegetable oil.
[6] Be careful with the salt. Check the mixture first.