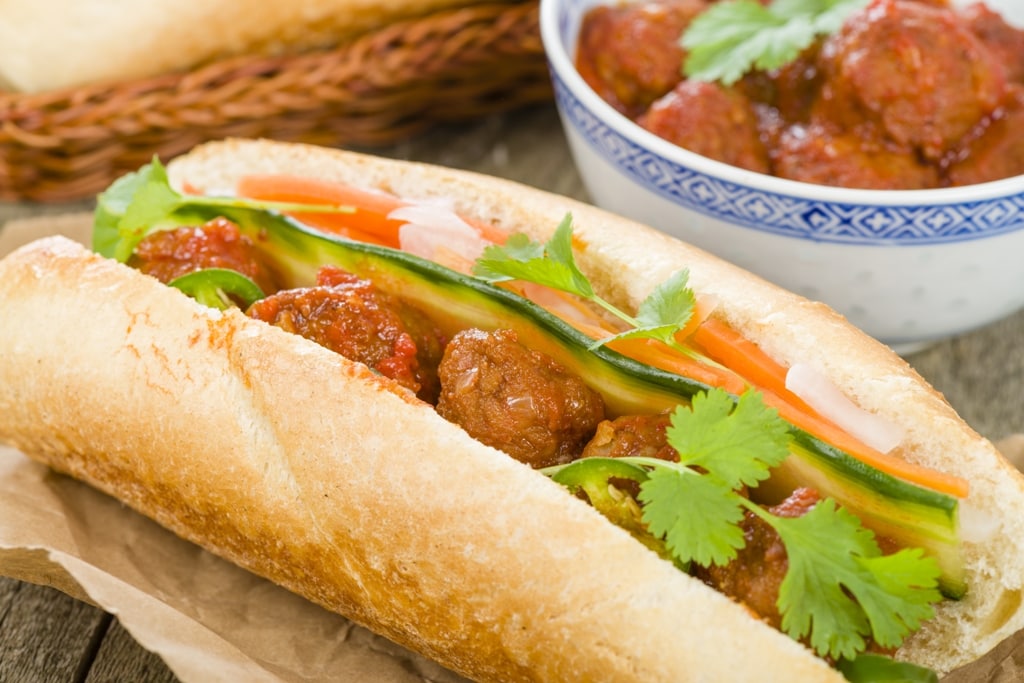 Vietnamese Banh Mi Thit Xiu Mai
Ingredients
For the meatballs
1

lb

ground meat (pork

veal, or poultry)

1/2

lb

jicama

grated

3

tomato/es

chopped

1

small onion

finely chopped

3

cloves

garlic

chopped

sesame oil

2

tbsp

tapioca starch
For the sauce
1

large onion

chopped

tomato paste

coconut or palm oil
For the pickles
1

lb

daikon and carrots

mix 70:30

agave syrup

or honey or sugar

rice wine vinegar

or white vinegar
For serving
2-4

Persian cucumber

cut in thin strips

1-2

baguette
Optional
tamari or soy sauce

fish sauce

mayonnaise

some sprigs cilantro

jalapenos

sliced
Culinary Spice Kit
Annatto, black pepper, Sichuan pepper (not recommended during pregnancy), fennel, Vietnamese cinnamon, star anise, and cloves
Instructions
Cook jicama
In a small POT, bring water to boil and cook jicama for 5 minutes. Drain and set aside to cool.
Pickles
Cut daikon and carrots into thin match-like strips or shred them.

Keep 2 tbsp cooked jicama aside and add remaining jicama to the daikon and carrots.

In a BOWL, add 1 cup water.

Add to taste: 2-4 tbsp syrup, vinegar, 1-2 tbsp salt.

Let rest in fridge 1-24 hours.
Fry garlic and onions
In a PAN, heat 1 tbsp sesame oil over medium heat. Add garlic and onions. Fry over medium-low heat until the onions turn brown. Take them out and set aside to cool.
Prepare meatballs
In a BOWL, mix ground meat, 2 tbsp jicama, fried garlic and onions, tapioca starch, and salt to taste. Mix well.

Form meatballs. Use about 1 tbsp of the meat mixture for each meatball.
Steam meatballs
In a large POT, place a deep soup plate. Fill water around the plate up to half of the height of the plate. Place meatballs in the plate. Cover POT. Heat water and steam meatballs for 15 minutes.
Sauce
In a PAN, heat 1 tbsp coconut oil. Add onions and Banh Mi Spices. Mix well.

Fry onions until they turn translucent.

Add tomatoes and salt to taste. Cook over slow heat for 10 minutes.

Add 1 cup of water and stir in 1-2 tbsp tomato paste.

Season with tamari and fish sauce to taste.

Add steamed meatballs and the liquid from its plate.

Mix well and let cook over low heat for 5 minutes, stirring in between.
Assemble your Banh mi thit
Place meat in your baguette.

Add cucumber and pickles.

Spread mayonnaise on one half of the baguette (optional).

Top with cilantro leaves and/or sliced jalapenos (optional).

Enjoy!