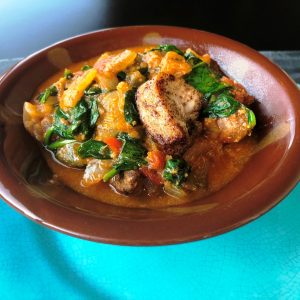 Togolese Gboma Dessi
Gboma Dessi from the small African country Togo contains big loads of green spinach in a tomato stew with a distinct flavor profile. Fried chicken or beef is mixed in as well. That's the kind of comfort food that you can't stop eating. We just love it! Originally, the meat for Gboma Dessi is cooked before it's seasoned and fried. If you can take the time for this version (see instructions for the long version below), it adds another level of deliciousness to the dish.
Ingredients
Shopping List
2

lbs

chicken thighs or breast

cut into 1-inch pieces

1

lb

baby spinach

washed

2

cups

chicken broth

3

tbsp

tomato paste

2

medium

tomato/es

chopped;

2

medium

onions

chopped

3

cloves

garlic

finely chopped or grated

1/4

cup

ground pumpkin seeds

with shell if possible

oil

salt
Optional
1

inch

fresh ginger

grated

1-3

whole fresh Habanero pepper

hot

smoked protein

fish. meat, or shellfish
Culinary Spice Kit
Ajowan, anise, cardamom, ginger, nutmeg
Suggested Side
Polenta, mashed potatoes, or rice.
For Optional Long Version
1

carrot

cut into 2 inch pieces

1

stalk

celery

cut into 2 inch pieces

1

medium

onion

quartered

2

bunch

bunch spinach (about 1.5 lbs),

roughly chopped, washed (instead of the baby spinach)
Instructions
Fry Chicken
Season the chicken on all sides with salt to taste and Gboma Dessi spices.

In a PAN, fry the chicken in oil over medium-high heat until all sides turn brown and the meat is cooked through.

Set aside and keep warm.
Cook Sauce
In a large POT, heat 2 tbsp oil over medium heat.

Add onions and garlic.

Fry over medium-low heat until soft.

Stir in tomato paste, and optionally ginger.

Add broth, ground pumpkin seeds, salt to taste, and/ or whole peppers to taste. Mix well.

Cook for 20 minutes until the sauce thickens. Stir occasionally.
Finish
Fill POT with the spinach.

Mix gently and cook over low heat until the volume of the spinach is reduced.

Stir occasionally.  

Stir in chicken and optional smoked protein.
Serve
Serve with your preferred side. 

Enjoy!
Cook Chicken (for Optional Long Version)
In a POT, bring 1 quart of salted water to a boil.

Add onion quarters, carrots, celery, and chicken.

Cover and cook over medium-low heat for about 30 minutes, until the chicken is tender.

Take the chicken out and strain the broth. Keep it for later.

Continue with the steps in 'Fry Chicken' above.
Cook Spinach (for Optional Long Version)
In a POT, bring 2 quarts of salted water to a boil.

Add spinach, return to a boil, and let cook over medium-low heat for 1 minute. Drain.

Place the spinach in a BOWL with cold water. Drain.

With your hands, squeeze as much water out as possible. Set aside.
Finish (for Optional Long Version)
Follow the steps in 'Cook Sauce' above.

Add chicken and optional protein. Mix well.

Add spinach and mix gently.

Cook for about 5 minutes to reheat the spinach.
Notes
▪ Substitute chicken with sirloin beef, cut in thin strips.
▪ Substitute spinach with kale and cook until soft.
▪ Substitute pumpkin seeds with your preferred nuts.