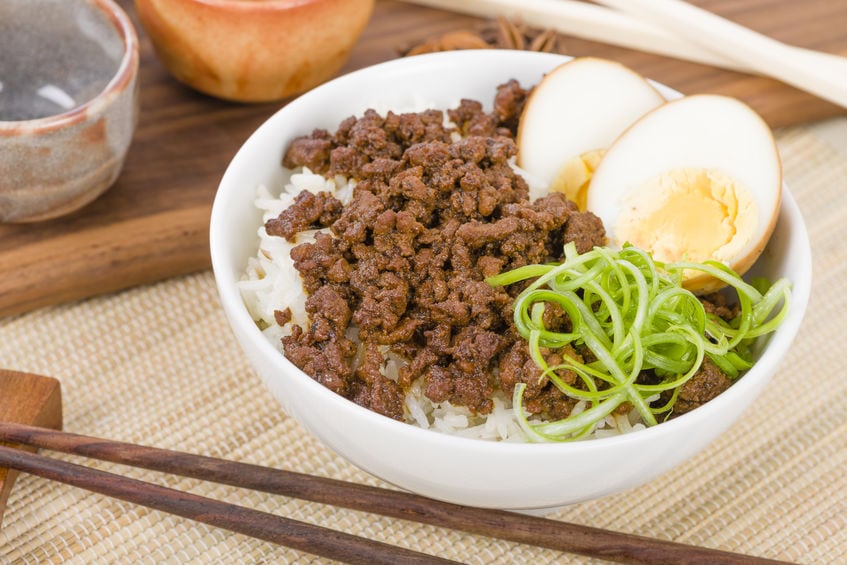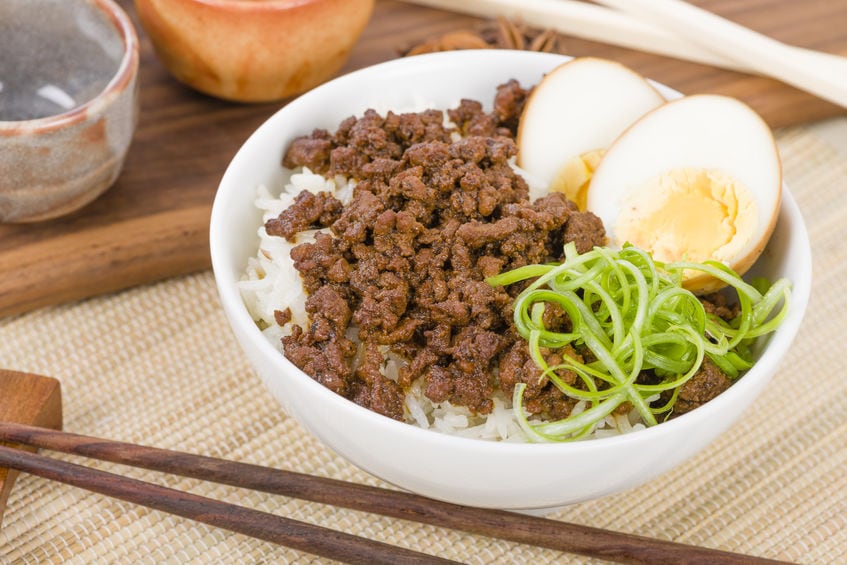 Taiwanese Ló͘-bah-png
Ló͘-bah-png or in Chinese "lǔ ròu fàn" translates to braised minced pork on rice. The signature Taiwanese comfort food is traditionally made with minced pork belly. In other parts of the country, ground meat is preferred. The key to the deep flavor experience is cooking the meat in two steps: first, fry the meat in oil, then slow-cook it in a savory sauce. The dish is supposed to be a bit on the salty side.
Ingredients
Shopping List
1

lb

ground meat

(see notes)

2

medium

shallots

halved and sliced

1

inch

ginger

grated

1/3

cup

soy sauce

or tamari**)

1/8

cup

cooking or white wine

2

tsp

sugar

brown recommended

oil
Optional
1

cup

sliced mushrooms

shiitake mushroom, portabello, or button mushrooms

3-4

hard-boiled eggs

peeled
Suggested Sides
cooked rice or noodles of your choice

8

oz

bok choy or Savoy cabbage

sliced and steamed
Culinary Spice Kit:
Fennel, star anise, cinnamon, cloves, black pepper, Sichuan pepper

or Chinese Five Spice to taste
Instructions
In a POT, heat 1 tbsp oil over medium heat. Add shallots and fry until they turn brown.

Add ginger and meat. Stir-fry until the meat is cooked and broken apart.

Optionally, add mushrooms. Fry for 5 minutes.

Add Ló͘-bah-pn̄g spices, soy sauce, wine, sugar, and 2 cups of water.

Optionally, place the eggs in the sauce.

Cover and cook over medium-low heat for 1 hour, stirring occasionally.

Note: The sauce is supposed to have the consistency of a soup, not thick.

Serve Ló͘-bah-pn̄g in bowls:

Add a large amount of rice or noodles.

Scoop the meat on top.

Note: It's supposed to be less meat than rice/ noodles.

Add sauce to individual taste.

Top with bok choy or cabbage.

Enjoy!
Notes
Notes/ Variations
*) Pork recommended. Beef or poultry works well too.
**) Substitutes with a similar taste are: coconut aminos, liquid aminos, or Worcestershire sauce.
▪ Substitute shallots with 1 cup of fried onions and add them in step 4.
▪ Add garlic, or substitute ginger with 2 cloves garlic.