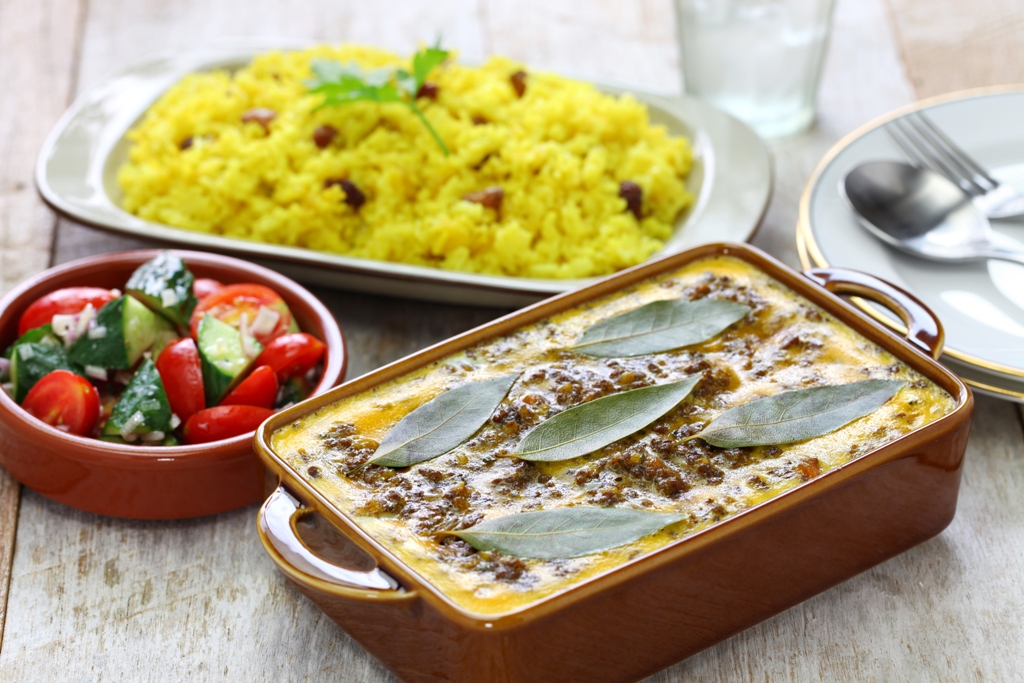 South African Bobotie
Ingredients
Shopping list
1.5

lbs

ground lamb or beef or mixed

1/2

cup

ground almonds

2

cups

rice
You might have
2

onions

chopped

3

large eggs

1.5

cups

milk

1/4

cup

lime juice

white vinegar

sugar

butter & oil

salt & pepper
Culinary Spice Kit
Pouch [1]

Amchoor, yellow mustard, curry leaves, fenugreek, onion, ginger, coriander, turmeric, cayenne, cumin, cilantro, garlic, cardamom, black pepper, cinnamon

Pouch [2]

Nutmeg. turmeric, lemon thyme
Instructions
Rice
Cook rice according to package instructions.
Meat
In a PAN, heat 1 tbsp butter.

Fry onions over medium heat until golden.

Add meat, salt to taste, and Bobotie Spices [1].

Stir-fry meat until it is crumbled and cooked.

In a CUP, whisk 1 egg and mix it with a 1/2 cup of milk.

Add it, sugar, and almonds to the meat. Mix well.

Stir in vinegar and lime juice. Adjust salt. Fill into a non-sticking BAKING DISH.
Finishing
Preheat the OVEN to 350°F.

In a BOWL, whisk 2 eggs.

Mix it with 1 cup of milk, salt to taste, and Bobotie Spices [2].

Pour mixture over the meat.

Bake in the OVEN for 30-40 minutes until topping is no longer liquid and turned slightly brown.
Serve
Serve with rice, and optional chutney and/ or a salad of your choice.

Enjoy!