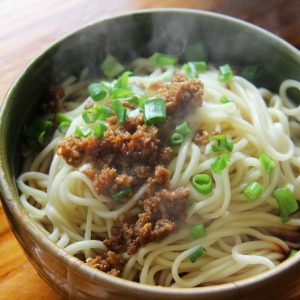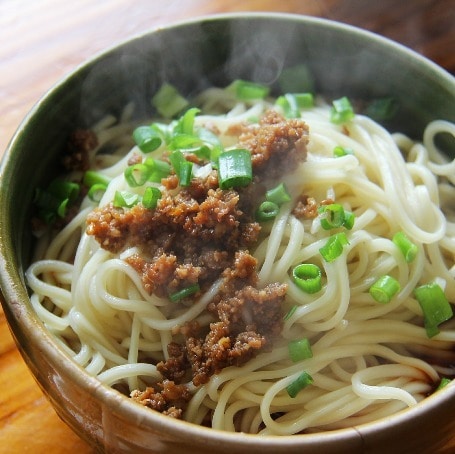 Chinese Mǎyǐshàngshù
You will never forget the name of this dish from the Chinese region Sichuan. In its classic version, thin glass noodles, also called bean threads, soak up a sauce made with ground meat. The result looks like ants climbing on tree twigs. That's why 'Mǎyǐ shàng shù' translates to 'Ants on a tree'. We used easier to find thin spaghetti and optional healthy vegetables. Our spice blend with Shitake powder is full of umami.
Ingredients
Shopping list
1.5

lb

ground pork

poultry, or veal

5

green onions

sliced

10.5

oz

very thin spaghetti aka capellini

tamari or soy sauce

oil

salt & pepper
Optional
4-8

oz

vegetables of your choice

(see notes)

cooked rice
Culinary Spice Kit
Cinnamon, fennel, garlic, Shitake mushrooms, black pepper, star anise, cloves
Instructions
Prepare the noodles according to package instructions. Keep the cooking water.

In a large PAN, heat 2 tbsp oil over medium heat.

Add meat and Mǎyǐshàngshù Spices. Mix and stir-fry until the meat is crumbled and cooked.

Add vegetables (optional), green onions, and 2 tbsp tamari or soy sauce.

Mix and stir-fry for 3 minutes.

Add the noodles and 1 cup of their cooking water. Mix well.

Add more cooking water, tamari or soy sauce and/ or salt & pepper to taste.

Enjoy!
Notes
* Recommended: thinly sliced mushrooms, zucchini, rutabaga, turnip, celery, bell pepper; or broccoli florets or green asparagus, cut in small pieces.
▪ Substitute spaghetti with glass noodles.
▪ Make it again and substitute the spices with 1-2 tbsp bean paste.