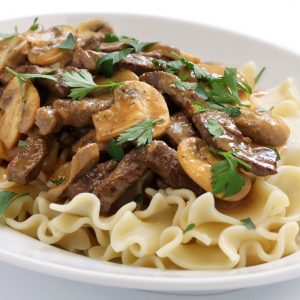 Russian Boeuf Stroganoff
Ingredients
Shopping List
1

lb

beef sirloin

cut in ½ stripes

8

oz

mushrooms

1/8

cup

red wine

8

oz

sour cream or heavy cream

0.25

lb

large noodles of your choice
You Might Have
1

onion

chopped

3

cloves

garlic

shopped

1

orange for juice

flour

vegetable oil

salt & pepper
Boeuf Stroganoff Culinary Spice Kit
Pouch [1]

Juniper roasted cacao (organic), black pepper, allspice, cinnamon, cloves

Pouch [2]

Pink peppercorns
Instructions
Prepare Noodles
Cook noodles according to package instructions.
Prepare Beef
On a PLATE, season beef with salt & pepper to taste.

Add 1 cup of flour.

Toss and turn beef in flour until it is covered an all sides with a thin layer of flour.
Fry Beef
In a large PAN, heat 2 tbsp oil until sizzling.

Fry beef for about 3 minutes, until it's slightly brown on all sides but not fully cooked inside.

Transfer beef to a PLATE. Cover PLATE with a LID.
Fry Vegetables
In the SAME PAN, heat 1 tbsp oil over medium heat.

Fry onion until translucent. It takes about 5 minutes.

Add garlic, mushrooms, and Boeuf Stroganoff Spices [1]. Mix well.

Fry mushrooms until they are almost cooked, but still firm. It takes about 5-10 minutes.

Add wine, mix well, and cook until wine evaporated.

Add orange juice and cream. Mix well.

Bring to boil. Let boil for 1-2 minutes.

Turn off!

Return beef and mix well.

Let rest for 3 minutes to reheat the beef.
Last
Serve mushroom sauce over noodles.

Sprinkle with Boeuf Stroganoff Spices [2] to taste.

Enjoy!
Notes
Variations
Substitute noodles with rice.
Substitute beef with chicken. Fry 5 min.
Substitute beef with green beans. Add beans to translucent onions and fry until beans are tender. Then add mushrooms.