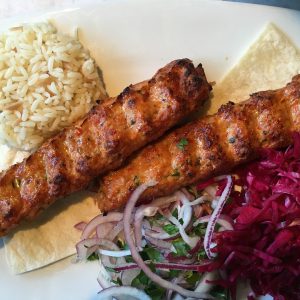 Persian Kabob Koobideh
Kabob Koobideh is the most popular grilled ground meat in Iran and around the Persian Gulf. The meat is prepared differently to a burger. It's important to knead the meat well to receive a texture that sticks to the skewers and turns out light when served. The kabob is traditionally grilled on wide flat metal skewers "hanging" over the fire so that the meat doesn't get in contact with the grill. This recipe is an easier weekday version.
Ingredients
2

lb

ground lamb

beef, or chicken

1

red cabbage

finely shredded

1

large

onion

grated

3

cloves

garlic

grated

1

egg

1

lemon for juice

oil

salt & pepper

!Suggested Sides & Toppings

Lavash or pita bread

cooked Basmati rice

onion & radish slices

grilled vegetables

Sabzi Khordan*)

sumac

!Culinary Spice Kit

Sumac

turmeric, black pepper, parsley
Instructions
!Cabbage

In a BOWL, mix 1 tbsp lemon juice, salt & pepper to taste, and 1 tbsp oil.

Stir in the cabbage. Cover and let rest for 2 hours.

!Prepare

In a BOWL, squeeze grated onions and discard all liquid.

Add garlic, salt to taste (recommended 2 tsp), egg, and Kabob Koobideh spices. Mix well.

Add meat. Knead well for 5 - 10 minutes.

!Fry

Wet your hands with water.

Form 2 tbsp of meat into long, flat shaped meat patties.

In a PAN, heat 1 tbsp oil over medium heat.

Fry the kabobs for some minutes on each side until they are cooked and slightly browned.

!Serve

Serve the kabob in bread and/or with rice and with cabbage.

Optionally, sprinkle the kabob with sumac and top it with onion & radish slices.

Add grilled vegetables or Sabzi Khordan*).

Enjoy!
Notes
▪ Substitute red cabbage with green cabbage, and/ or add some shredded carrots or apples.
*) See the recipe for
grilled Kabob Koobideh
Sabzi Khordan.