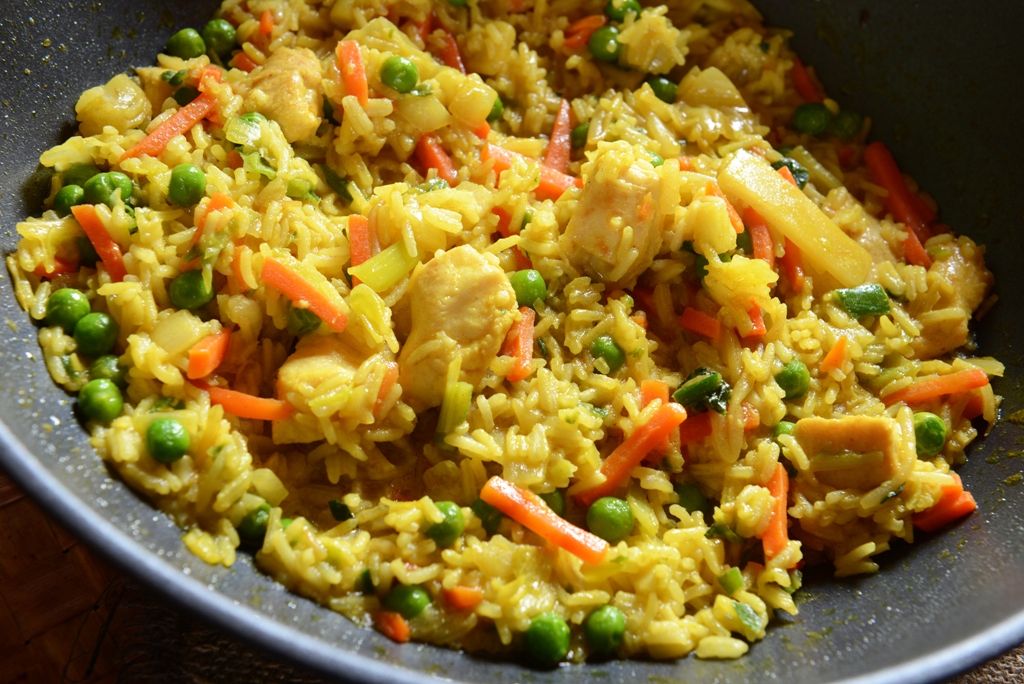 Indonesian Nasi Goreng
Nasi Goreng is the second most delicious meals of the world (voted by CNN readers). It is originally a dish to use up leftovers and it's best cooked with rice from the day before. You can be creative with the choice of vegetables and add optional meat or shrimps. Earthy galangal makes the taste of this dish outstanding.
Ingredients
Shopping list
2-3

cups

vegetables of your choice

finely chopped or thinly sliced *)

2

cups

rice

anchovy paste

recommended

1

lb

shrimps

precooked (optional)

1

bunch green onions

sliced (optional)

1

cup

peanuts

chopped (optional)
You might have
1

onion

finely chopped

2

cloves

garlic

finely chopped

soy sauce

or tamari **)

agave syrup or sugar

vegetable oil

salt
Culinary Spice Kit
[1] Galangal, turmeric, black pepper, nutmeg, amchoor, tamarind

[2] Chili
Instructions
Day 1
Cook rice according to package instructions.
Day 2
In a large PAN, heat 3 tbsp oil.

Fry onions and garlic over medium heat until onions turn slightly brown.

Add vegetables and fry them over medium heat for about 5-10 minutes(*) until they are almost cooked.

Add 2 tbsp soy sauce, Nasi Goreng [1] spices, 1 tbsp syrup, and salt and Nasi Goreng [2] spices to taste.

Optional add: 1-2 tbsp anchovy paste (recommended) and shrimps. Mix well.

Add rice and stir over medium heat until rice is well blended with the vegetables.

Optional: Garnish with green onions, peanuts, sprinkle with lemon juice, fried onions, and/or add a fried egg.

Enjoy!
Notes
*) Leftover vegetables are fine as well. Reduce the frying time accordingly.
**) Substitutes with a similar taste are: coconut aminos, liquid aminos, or Worcestershire sauce.