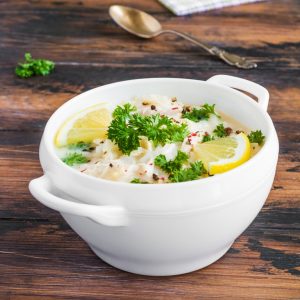 Greek Avgolemono
The basic recipe for Avgolemono is a healthy chicken soup thickened with eggs and seasoned with lemon juice to taste. Perfect for the cold season. We added a modern twist with our pink pepperberry-lemon thyme blend. Optionally, make a delicious Avgolemono pasta sauce. You can add your favorite vegetables to the soup or pasta sauce. Or pour the sauce over cooked or fried vegetables. A good fit is, for instance, asparagus, turnip, rutabaga, pumpkin, zucchini, and carrot.
Ingredients
1

lb

chicken pieces with skin*)

1

each celery

carrot, onion, roughly cut

2

eggs

2 - 4

lemons for juice
Option 1: Avgolemono Soup
1/4

cup

orzo or any small noodles
Option 2: Avgolemono Pasta
12-16

oz

fettuccini or other pasta

cooked

1

onion

finely chopped

olive oil
Avgolemono Culinary Spice Kit
Pink pepperberries

chives, lemon thyme, savory,

green peppercorns

lemon crystals
Optional
Add 1-2 cups of your favorite vegetables

cut into bite-size pieces (see suggestions above).
Instructions
(1) Prepare: In a POT, bring 4 cups of water to a boil. Add chicken, vegetables, and salt & pepper to taste. Cook for 20 to 30 minutes until the chicken falls apart. Take it out, remove the skin, and shred it with 2 forks.

(2) Base: In a BOWL, add eggs and 2 tbsp lemon juice. Whisk. Slowly stir in hot broth, 1 tbsp at a time, until the mixture reaches the temperature of the broth.

(3) Soup: To the POT, add orzo, 1 cup shredded chicken, additional vegetables (opt.), hot Base, Avgolemono spices, and salt & lemon juice to taste. Cook over medium heat for 6-10 minutes until the orzo is cooked 'al dente', stirring occasionally.

or (3) Pasta (instead of soup): In a PAN, fry onions in 2 tbsp of oil over medium heat until translucent. Optionally, fry vegetables until cooked. Add 2 cups of broth, 1 cup shredded chicken, hot Base, Avgolemono spices, and salt & lemon juice to taste. Cook low for 5 minutes. Serve sauce with cooked pasta.

Enjoy!
Notes
*) Optionally, buy broth and use cooked chicken or substitute with 1 lb vegetables (s.a.), and skip step (1).
Substitute orzo with 1 cup cooked rice.
Substitute chicken with veal or pork and cook longer.
Add 1-2 tbsp white wine and/or olive oil to the eggs.
For a thicker soup, dissolve 1-2 tsp cornstarch in 2 tbsp cold water. Add it to the eggs.