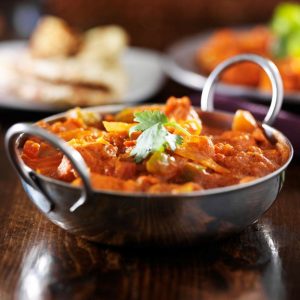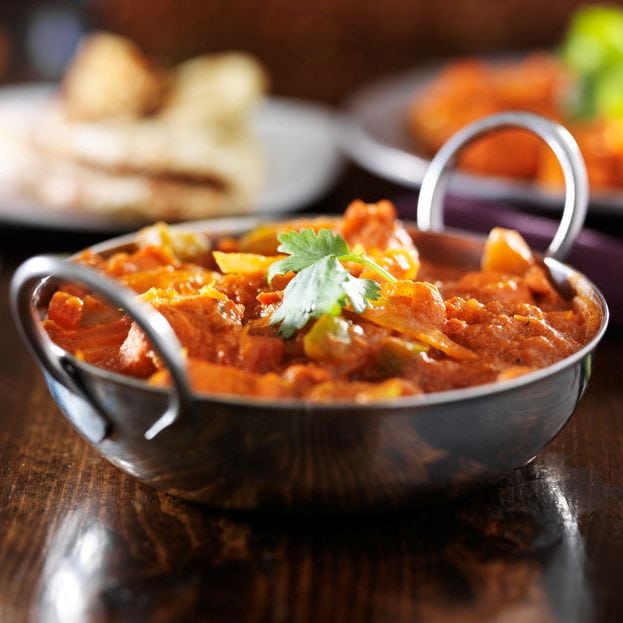 Goan Vindaloo
Vindaloo is a worldwide popular dish from Goa, India. Its origin is the Portuguese dish "carne de vinho e alhos" (meat cooked in wine vinegar and garlic). The sour-spicy dish came to Goa with Portuguese explorers in the 15th century and was adapted to the local taste and ingredients. Vindaloo is usually very hot. Our spice blend has only a little kick, not hot at all. Add fresh chilies to your heat level. We recommend to try it with pork or lamb, though it takes a bit longer to cook.
Ingredients
Ingredients
1 .25

lbs

chicken thighs or breast

cut into 1-inch pieces

1

large

onion

halved and thinly sliced

1/2

head

garlic

smashed or grated

1

inch

ginger

grated

1/4

cup

vinegar

wine or cider

1

tbsp

mustard

sugar

brown

oil

salt & pepper
Suggested Sides
Boiled potatoes, rice, or naan bread.

Roasted cauliflower, cooked peas, or pickles.
Optional
Fresh chilies to taste

chopped
Culinary Spice Kit
Cumin, coriander, turmeric, white poppy seeds, cinnamon, cloves, Kashmiri chili
Instructions
Marinade
Season meat with salt & pepper to taste.

In a BOWL, combine garlic, ginger, vinegar, mustard, chilies (opt.), and Vindaloo spices.

Add meat and mix until all meat is well coated with the marinade.

Cover and marinate in the fridge for 30 minutes to 24 hours.
Cook
In a POT, heat 2 tbsp oil over medium heat. Fry onions until they turn brown.

Add meat. Fry 5 minutes over high heat, stirring constantly.

Cover. Cook 10 minutes over medium heat. Stir frequently.

Add 1 tsp sugar and 1 cup of hot water. Mix well. Cook for about 30 minutes over medium-low heat until the meat is falling apart. Stir occasionally.

Add more sugar and/ or vinegar to taste.

Serve with your preferred sides (see suggestions). Enjoy!
Notes
▪ Optionally, start with 1/8 cup vinegar for the marinade and add more to taste during cooking.
▪ Substitute chicken with duck or with lamb or pork stew meat. Adjust the cooking time in the last step.
▪ Substitute chicken with eggplant, cauliflower, or sweet potatoes.