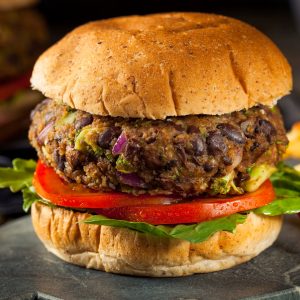 Global Black Bean Burger
This Black Bean Burger is only one of countless vegetarian burgers that are created to date. The history of meatless fried patties goes back to 1969 when the first recipe appeared. In the early eighties, the first commercial version hit the British market and was an immediate success. However, the term "veggie burger" long referred to as a hamburger with vegetables on top.
Ingredients
1

can

black beans

15 oz, rinsed, pat dried*

1

medium

egg

1/4

cup

ground almonds or bread crumbs

4-6

Hamburger buns

oil

salt & pepper
Black Bean Burger Culinary Spice Kit
Sun-dried tomatoes, garlic, onion, Chipotle chili, porcini mushroom, cumin, smoked paprika, green bell pepper, yellow mustard
Suggested Toppings & Sides
3

red bell pepper

halved

4

oz

portabella mushrooms

sliced

2

tomatoes

sliced

1

lb

baked sweet potatoes or fries
Instructions
Bell peppers
Preheat OVEN to 350°F.

In the OVEN, place bell peppers skin-side up on a lined BAKING SHEET.

Bake for 20-40 minutes until the skin gets black spots.

Let cool. Peel skin off. Set aside.
Mushrooms
In a PAN, fry mushrooms in 1 tbsp oil until soft.

Add salt & pepper to taste. Set aside.
Burgers
In a BOWL, mash beans with a potato masher**.

Add egg, almonds, Black Bean Burger spices, and salt to taste. Mix well**.

Form 4-6 burger patties.

In the same PAN, heat 2 tbsp oil over medium heat.

Fry burger patties until they are crisp on both sides.
Serve
Serve burgers in buns with tomatoes, mushrooms, bell pepper, and a side of baked sweet potatoes.

Optionally,  toppings & dressings. Enjoy!
Notes
*If you have the time, let the beans dry in the oven.
**Do not use a food processor!
▪ Substitute black beans with kidney or pinto beans (or mix) or with 1 lb ground meat.
▪ Substitute portabella with any mushrooms or eggplant slices.
▪ Add mayonnaise with horseradish or zesty chili lime.
▪ Add ketchup with honey and chipotle chili.