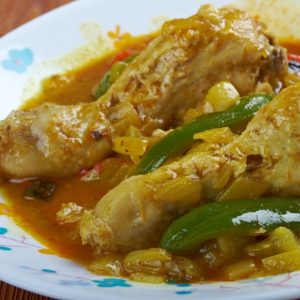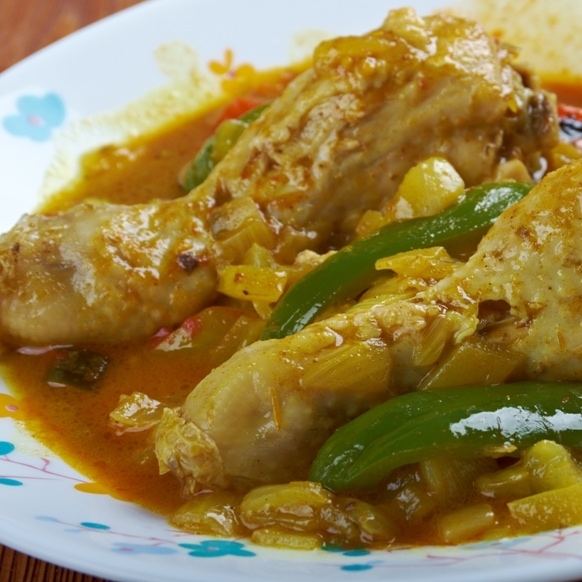 Ghanaian Nkatenkwan
This Ghanaian dish, called Nkatenkwan or groundnut soup, is popular throughout West Africa. It's typically a creamy chicken-peanut-soup. With our variations, the soup can be modified to your taste. Add a finish of grains of paradise (included). They are native to West Africa, mainly from Ghana, and a mild but pungent alternative to black pepper.
Ingredients
Shopping List
2

lbs

chicken drumsticks

2

cups

okra

2

medium

tomato/es

quartered

5-6

cups

chicken or vegetable broth

1

cup

creamy peanut butter

1

large

onion

quartered

1

inch

ginger

chopped

salt & pepper
Suggested Sides
fresh bread

rice

sweet potatoes

yam
Culinary Spice Kit
Pouch [1]

Rosemary, bay leaves

Pouch [2]

Grains of paradise

whole
Instructions
In a large POT, add 3 cups of broth, onion, ginger, tomatoes, okra, drumsticks, salt & pepper to taste, and Nkatenkwan [1] spices.

Bring to boil. Cook over medium-low heat for 15 minutes.

Turn heat off. Take drumsticks out and set aside.

Transfer soup to a FOOD PROCESSOR and blend until smooth. Set aside.

In the same POT, heat 2 cups of broth. Add peanut butter and dissolve in the broth over low heat, stirring constantly.

Add blended soup and drumsticks. Mix well.

Optionally, add more broth for a thinner soup.

Cook soup over medium-low heat for 20 minutes.

On the plated soup, sprinkle Nkatenkwan [2] spices to taste from a grinder or whole.

Enjoy!
Notes
Notes/ Variations
▪ Substitute drumsticks with 1 lb chicken breast or thighs, cut into pieces, or beef stew. Adjust cooking time and add more broth if necessary.
▪ Substitute okra with green beans, kale, or cabbage.
▪ Substitute peanut butter with other nut butter.
▪ For a clear soup, skip the peanut butter and step 4.
▪ Without food processor: chop onion and grate ginger. In step 3, transfer everything to a BOWL. Skip step 4. In step 6, return everything to the POT.