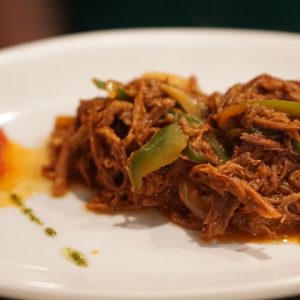 Vaca Frita
Ingredients
1.25

lb

skirt steak or brisket

1

green bell pepper

quartered

1

green bell pepper

halved & sliced

1

large onion

quartered

1

large onion

halved & sliced

2

cups

rice

5

cloves

garlic

or more to taste

2-3

tbsp

lime or lemon juice

olive oil

salt
Culinary Spice Kit
Pouch [1]

Cumin, orange peel, oregano

Pouch [2]

Chipotle pepper, ancho pepper
Instructions
Cook rice according to package instructions.

In a POT, add meat, the quartered bell pepper & onion, 2 cloves garlic, salt to taste. Fill with water to cover. Close POT. Bring to boil. Turn heat to low.

Cook 2-4 hours until meat is tender.

Shred meat into 1/2 inch thick chunks.

In a PAN, heat 1/2 cup oil over medium heat. Fry sliced onions and bell pepper with a pinch of salt until translucent. Scoop vegetables out for later. Keep the remaining oil in the PAN.

In the same PAN, over medium heat, add meat, 3 cloves chopped garlic, Cuban Spices [1], and Cuban Spices [2] to taste. Fry for about 5-10 minutes until golden brown.

Return vegetables to PAN to reheat.

Turn off. Add lime juice and salt to taste.

Serve with rice. Enjoy!
Notes
Recipe changes for variation with Mojo Sauce (spiced fried onions):
Step 5: Fry onions and bell peppers separate.
Step 6: Don't use Cuban Spices [2].
Step 7: Return only bell peppers to the PAN.
Step 8: Don't use lime juice.
New Step: To mix the Mojo Sauce, place fried onions in a BOWL and season with lime juice and Cuban Spices [2] to taste.
Step 9: Top with Mojo Sauce.
Recipe for fried plantains as a typical side:
Peel plantains and cut them into 1/2 inch slices.
In a PAN, heat 1/4 cup of oil over medium heat.
Fry plantain slices until they turn golden on both sides.
Season with salt to taste.
Recipe for black beans as another typical side:
In a POT, heat 2 tbsp oil over medium heat.
Add 1 can black beans (rinsed).
Season to taste with salt, cumin, and black pepper.
Fry beans for a couple of minutes.
Add 1/2 cup of the broth from cooking the meat.
Cover POT and bring to boil.
Reduce heat to low, and simmer for 10 minutes.