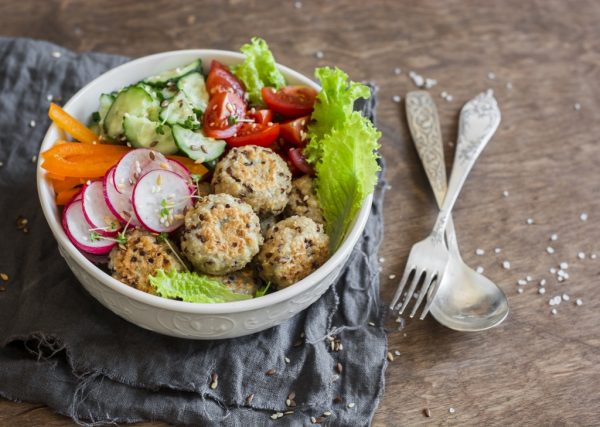 The 'Buddha Bowl' is a contemporary trend of colorful vegetarian one-bowl meals. Crisp quinoa balls with nigella seeds are the stars of our vegetable bowl finished with an orange ginger dressing. 
Nigella and Quinoa for Your Health
Healthy nigella in protein-rich quinoa balls fit just right. If you are new to quinoa or short in time, you can simply add quinoa to your bowl and sprinkle the spice blend on top. For your convenience, find the recipe for a version with meatballs at the end of this page.
Your Selection of Vegetables
What kind of vegetables are best for your Buddha Bowl? It really depends on which vegetables you have available and what you prefer. Get inspired by the following recommendations:
Classic: Lettuce leaves, sliced red radish, sliced cucumber, tomato slices, and bell pepper strips.
Healthy XXL: kale chopped, baby spinach, radicchio sliced, endives sliced, and edamame.
Latino vibe: black beans, fresh corn, cilantro, tomato cubes, cucumber cubes, grilled sweet potato cubes.
The Buddha Bowl Culinary Spice Kit includes the following spices:
Coarse brown mustard, nigella seeds