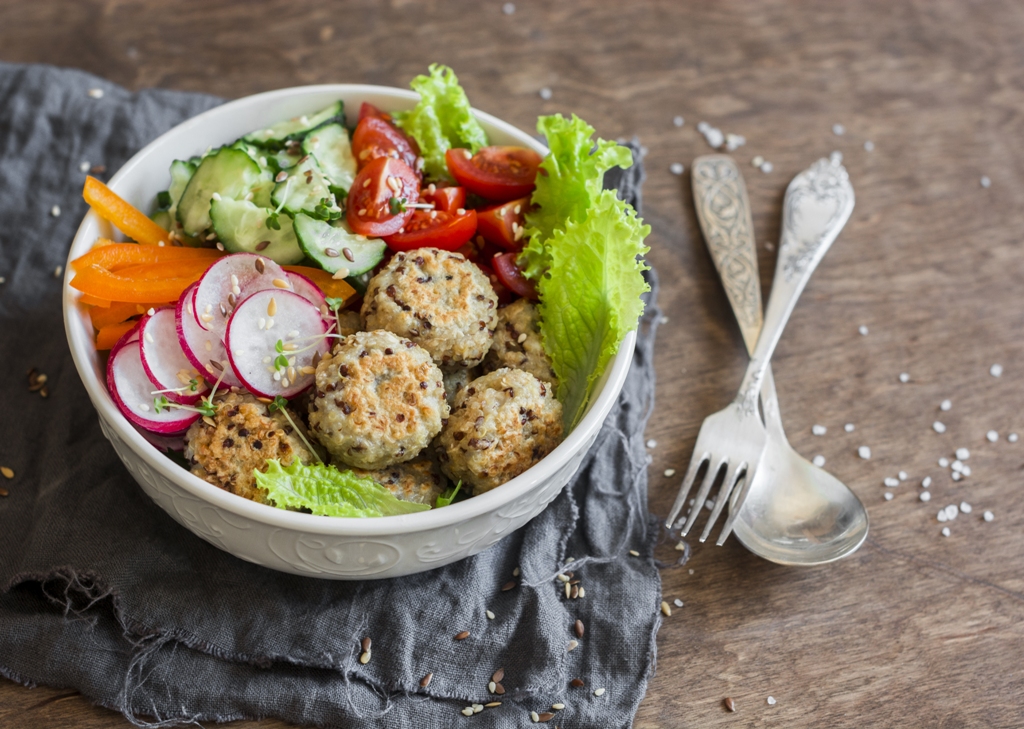 Buddha Bowl
Ingredients
Shopping list
1

cup

quinoa

1

cup

panko

or any fine breadcrumbs

1/8

cup

chives

finely chopped

1/2

cup

orange jam

1

small onion

finely chopped

2

cloves

garlic

grated

1

inch

ginger

grated

1

lemon for juice

vegetable oil

salt & pepper

Your selection of vegetables for the salad
Culinary Spice Kit
Coarse brown mustard, nigella seeds
Instructions
Cook
Cook quinoa according to package instructions.
Salad dressing
In a small POT, heat orange jam with 1/2 cup of water, half of the ginger, and salt to taste.

Cook over slow heat for 10 minutes.

Stir in 1/2-1 tsp lemon juice. Set aside to cool.
Prepare balls
In a BOWL, combine onions, garlic, half of the ginger, chives, and Buddha Spices.

Add quinoa, salt & pepper to taste. Mix well.

Add 2 or more tbsp panko as needed to absorb most of the liquid.

Form little balls in the size of 1-inch diameter.

On a PLATE, roll the balls in the remaining panko until they are coated on all sides.
Fry
In a PAN, heat 4 tbsp oil over medium heat.

Fry quinoa balls on all sides until they turn brown and crisp.
Serve
Distribute salad in bowls.

Add quinoa balls and pour the dressing on top.

Enjoy!
Notes
Variations
Make meatballs from poultry, pork, or veal instead of quinoa balls.
For the coating, add 2 tbsp or more sesame seeds to the panko.
Substitute chives with parsley or cilantro.