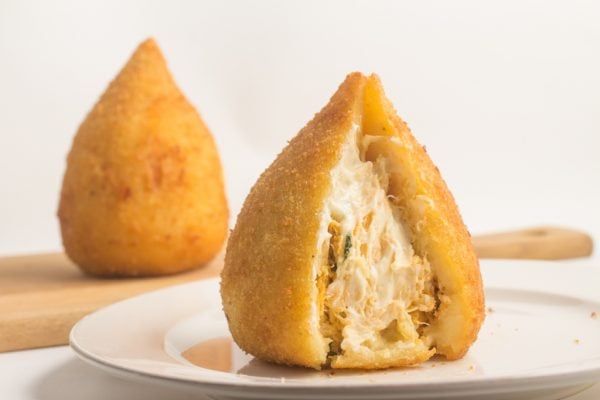 Coxinha ("little thigh") is one of the most famous savory snacks in Brazil and indispensable to any party. Each bar and each family has its own recipe. 
These fried crisp 'drumsticks' filled with a well-seasoned sauce are so scrumptious – you can't just have one.
The filling makes also a good base for a creamy sauce over noodles, potatoes, or rice.
Substitute chicken with any ground meat or with mixed vegetables and chopped mushrooms or with your favorite cheese or combine any of these ingredients to taste.
Add a cream cheese dip.
Short version without forming the drumstick-balls: Skip the dough and add 1 cup heavy cream to the filling. Serve the sauce over rice, noodles, or potatoes.
The Coxinha Culinary Spice Kit includes the following spices:
Marjoram, oregano, white & black pepper, nutmeg, basil, chili, parsley, and bay leaves