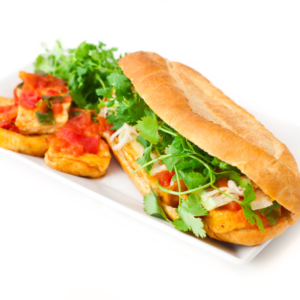 Vietnamese Bánh Mì Thịt - Tofu
Bánh Mì Thịt, a delicious Vietnamese sandwich, traditionally features a combination of succulent meat, pickled vegetables, fresh herbs, and a crusty baguette. In this vegan version, the meat is substituted with tofu to create a plant-based delight. The dish offers a fantastic blend of textures and flavors.
Ingredients
Pickled Topping
1/2

lb

daikon or cucumber and carrots

mix 70:30, shredded

1

tbsp

lemon juice

1

tbsp

tamari [1]

or fish sauce to taste
Spread
1/2

cup

mayonnaise [2]

1

tsp

lemon juice

chili sauce (optional)

to taste
Tofu
1

block

extra-firm tofu

14-16 oz

2

cloves

garlic

grated or pressedd

2

tbsp

tamari [1]

1

tbsp

rice vinegar

or (cooking) wine

1

tbsp

(agave) syrup

or honey or (brown) sugar

1

tbsp

starch

corn starch or arrowroot

1

tsp

fish sauce (optional)

oil
Choose One
1-2

baguette

authentic

any type of bun or bread

cooked rice or quinoa
Optional Toppings
some sprigs cilantro

jalapenos
Culinary Spice Kit
Annatto, black pepper, Sichuan pepper (not recommended during pregnancy), fennel, Vietnamese cinnamon, star anise, and cloves
Instructions
Pickle the Vegetables
In a BOWL, mix lime juice and tamari.

Add vegetables. Mix well.

Let it sit for 15 minutes.
Spread
In a BOWL, mix mayonnaise with lemon juice and (optional) chili sauce.
Press the Tofu
Marinate the Tofu
In a BOWL, mix garlic, tamari, vinegar, syrup, and starch.

Optionally, add fish sauce to taste

Stir in Banh Mi Spices.

Place tofu slices on a large PLATE. Pour marinade over it.

Let sit for 10 minutes, turning halfway.
Fry the Tofu
In a PAN, heat 2 tbsp oil over high heat.

Fry tofu slices in one layer until brown on both sides.

Repeat with any remaining slices.
Assemble your Banh mi thit
Spread mayonnaise on one half of the baguette.

Place fried tofu in the baguette.

Top the baguette with the pickles, and, optionally, cilantro leaves and/or sliced jalapenos.

Enjoy!
Notes
[1] Substitute with soy sauce or see more substitutes in our blog.
[2] Substitute mayonnaise with yogurt.
[3] We recommend tofu press on Amazon. This is not an affiliate link, which means that we don't get paid if you buy it. We just use it for years now and it works perfectly.
Alternatively, place the tofu in a strainer that sits in a container. Cover with a plate and put some weight on top.
Marceline Reid-Jaques
2022-12-14
Wonderful, flavorful meals using readily available ingredients!
My daughter gave me a subscription as a Christmas present while our families were quarantining together. It was so much fun! It introduced us to several cuisines that were totally new to us. The recipes were easy to follow and the spices were transformative - fresh and pungent and delicious.
The best way to try new dishes!
Be Inspired | Explore your boundaries and creativity