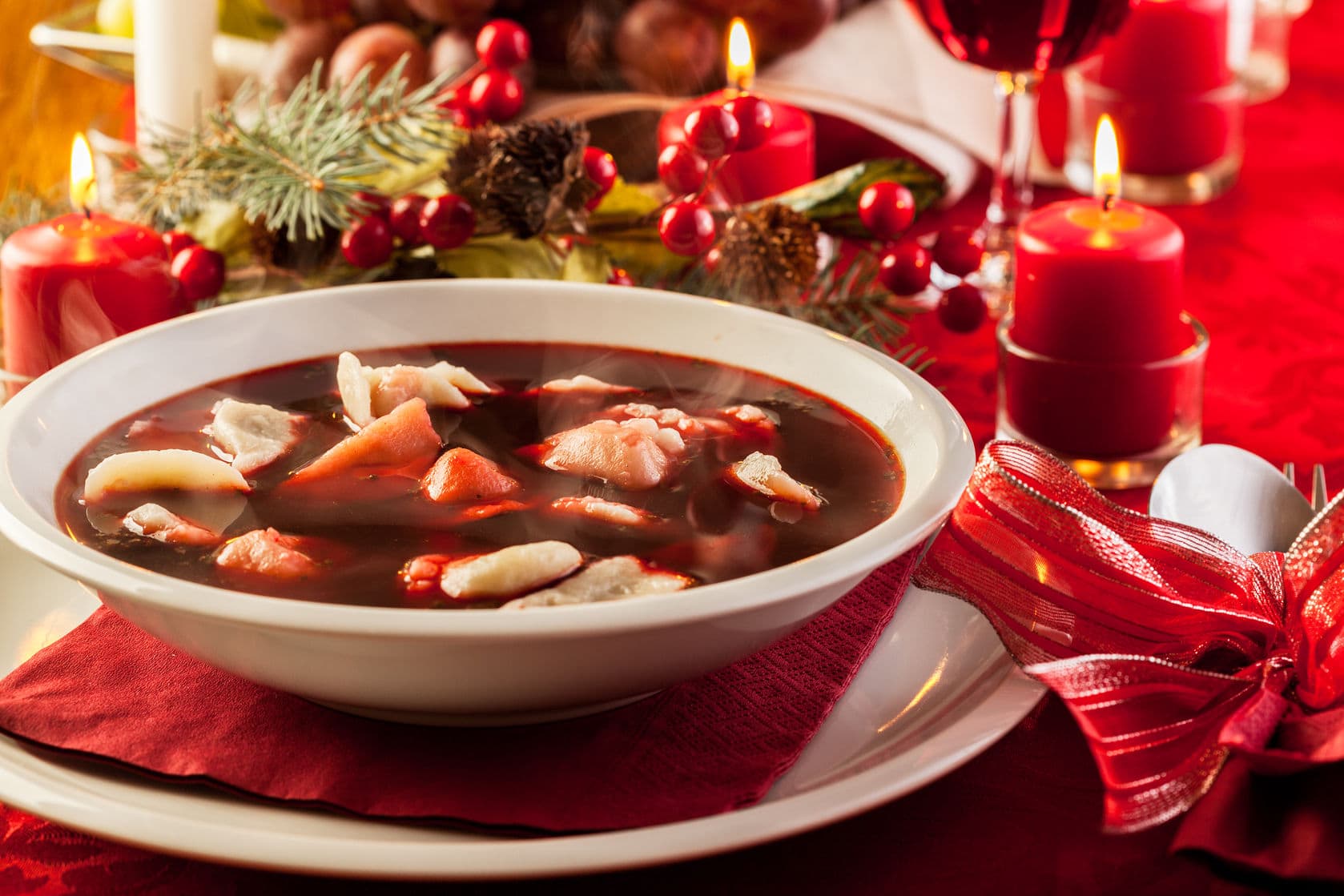 Polish Barszcz Wigilijny
This traditional Polish borscht soup is made from beetroots and mushrooms. It's poured over homemade mushroom dumplings. You can choose your favorite tortellini instead. If you prefer a complete dinner dish, keep the vegetables in the soup. To make the flavor experience complete, serve the soup with fresh herbs, a dollop of sour cream, and a slice of dark rye bread.
Ingredients
Shopping list
9

oz

tortellini

(filled with mushroom or meat)

1

jar

pickled beetroots

(sliced, 16 oz)

0.5

oz

dried mushrooms

sliced

32

oz

vegetable broth

vinegar

e.g. apple cider

1

lemon

(for juice)

salt
Suggested Sides
dark rye bread

or baguette
Suggested Garnish
fresh herbs

(chives, dill, or sprouts)

sour cream
Culinary Spice Kit
Allspice, garlic, black pepper, marjoram, cinnamon, star anise, cloves
Instructions
Prepare
In a GLASS, pour liquid from the beetroots jar. Set aside for later.

Cook tortellini according to package instructions. They shall be served with soup.
Soup
In a large POT, bring broth to a boil.

Turn off heat. Stir in mushrooms.

Let mushrooms rest for 30 minutes.

Bring broth to a boil again.

Add the beetroots, Barszcz Spices, and salt to taste. Cook for 10 minutes.

Add the beetroot liquid from the GLASS, 1 tbsp lemon juice, and 1/8 cup vinegar.

Cook 5 minutes.

Drain soup through a fine mesh SIEVE.
Serve
Place tortellini on soup plates and fill plates with the clear soup.

Optionally, serve with sour cream and rye bread, and garnish with fresh herbs or sprouts.

Enjoy!
Notes
▪ Substitute dried mushrooms with 3 oz fresh mushrooms. Skip steps 2-4 and add fresh mushrooms with the beetroots in step 5.
▪ Skip step 8 and leave the vegetables in the soup.
▪ Skip step 8 and puree the vegetables in the soup with a hand blender.