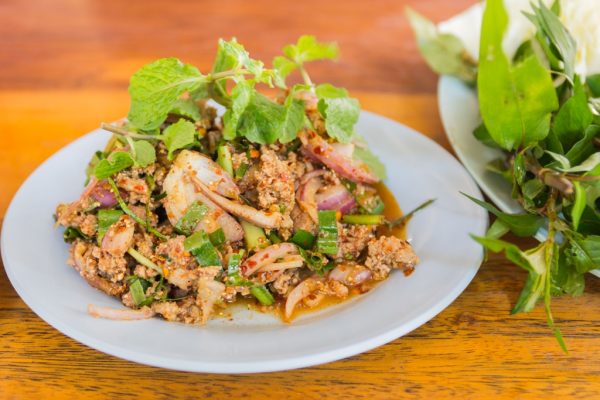 This simple fresh summer dish is a specialty from Laos. Larb is an exotic sour-salty salad with cooked ground meat and fresh herbs.
Larb is originally very hot and served with unseasoned vegetables to balance the intense flavor. Our seasoning provides the basic with a mild hotness. Add as many fresh chilies as you can take.
Good for Two Different Dishes
Our tip: After cooking the meat, keep the cooking water. It's a delicious broth that you can use to make another dinner. Peel and cut potatoes and root vegetables into the same size: either 1/4 inch for fast cooking or 1 inch for fast cutting. Cook them in the broth to create a Cuban style soup.
 Substitute beef with any other ground meat, or vegetables (recipes below).
Substitute 2 green onions with 1/2 red onion.
If not using fish sauce, add 1-3 tbsp anchovy paste.
Add chopped cilantro or Thai basil.
The Larb Culinary Spice Kit includes the following spices:
Lemongrass, amchoor, garlic, lemon peel, chili, coriander,  ginger, star anise, cilantro, onion, basil, cumin, white peppercorn, cinnamon, lemon oil