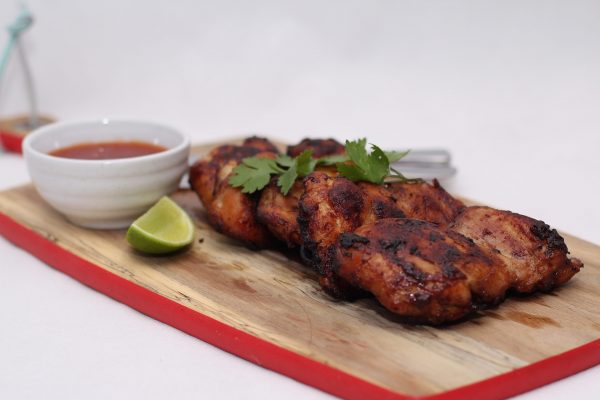 Chicken Inasal from the Filipino City of Bacolod has an earthy-peppery taste with a hint of nutmeg and a slight citrus flavor. 
The key ingredient is annatto or achiote powder. This spice from the "lipstick tree" colors the chicken orange-red and is very popular in Latin and Filipino cooking.
Chili Vinegar Dipping Sauce
Optionally, add a chili vinegar dipping sauce made with fresh or dried chilies:
1 cup vinegar
1 small onion, finely chopped
2 cloves garlic, grated
1-2 fresh red chilis, finely sliced, or red chili flakes to taste
1 tbsp agave syrup or sugar
salt & pepper to taste
In a BOWL, mix all ingredients. 
Cover and set aside in the fridge for 1-3 days.
The Inasal Culinary Spice Kit includes the following spices:
Annatto, lemongrass, lemon peel, ginger