Seared Ahi Tuna Salad
To benefit your health balance after rich holiday meals enjoy a quickly prepared Californian Seared Ahi Tuna Salad.
Californian Lifestyle
Seared Ahi Tuna Salad is served in most of the South Californian micro brewery restaurants. Enjoy this fast to prepare and delicious dish at home. If you cannot find fresh tuna, cook the tuna just trough or make the dish with fresh salmon.
This Culinary Spice Kit includes smoked paprika, oregano, and white pepper. Give it a spicier version with added chili.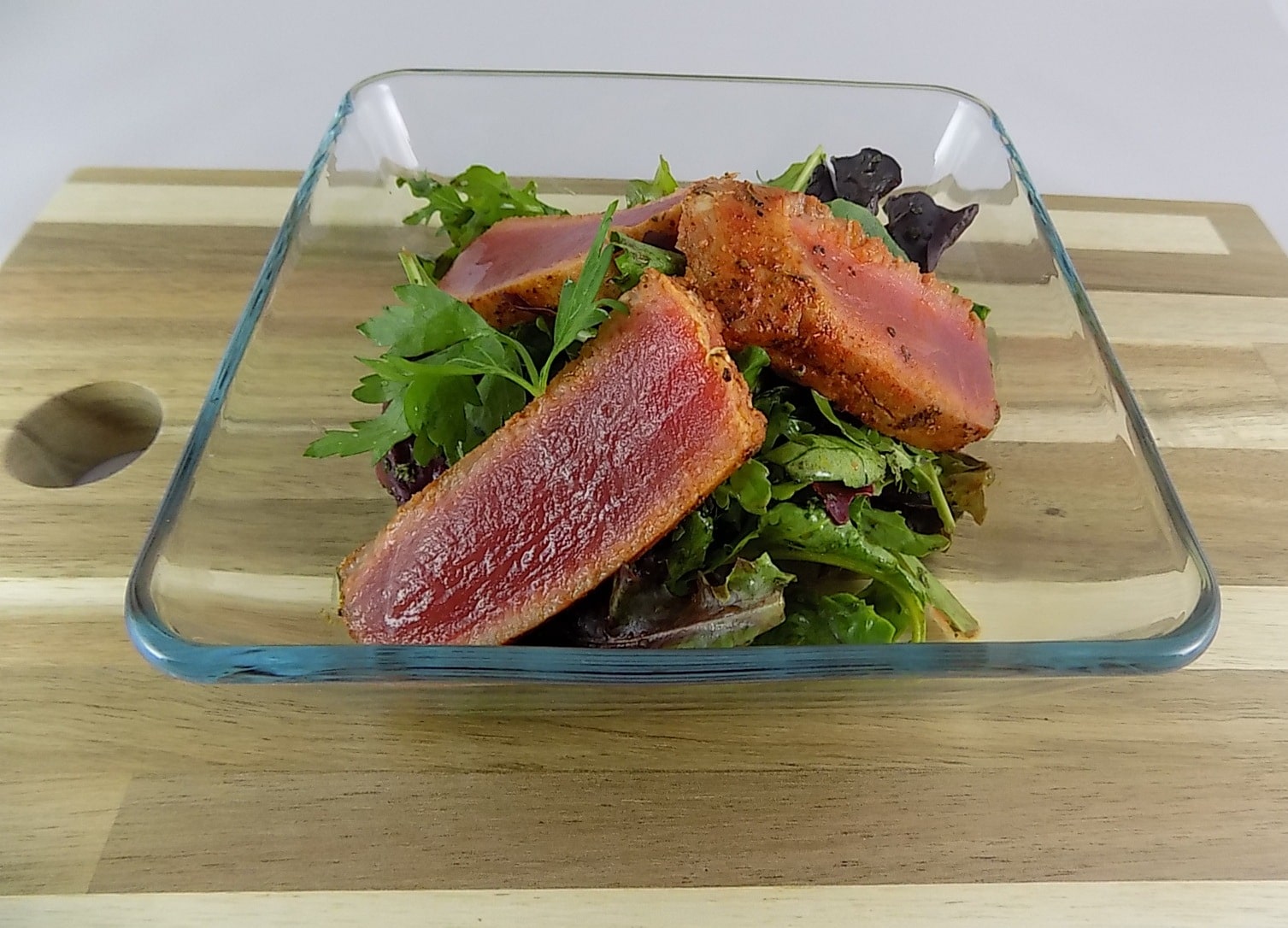 Season both sides of the tuna steaks with Ahi Tuna Spices [1], and salt and Ahi Tuna Spices [2] to taste.

In a PAN, heat 2 tbsp vegetable oil until smoking hot.

Add tuna steaks. Cook each side for 1 to 1 1/2 minutes. The inside will still be rare.

If you want the tuna fully cooked, turn the heat to medium and cook until done.

Cut the tuna steaks into slices of about 1/4 inch.
In a BOWL, place lettuce.

In a CUP, mix 1 tbsp balsamic vinegar with 1 tbsp fresh orange juice. Add syrup to taste (optional).

Season with salt and pepper to taste.

Mix with 1 tbsp olive oil.

Toss it over the lettuce and mix well.
Place salad on plates and the tuna slices on top. Serve with fresh baguette.
Variations:
salmon, shrimps, or chicken.
Add vegetables to the salad, e.g.:
2 carrots, thin 1 inch long stripes
1 cup capers, the smallest available
1 cup edamame beans