Meslalla
Olive Tagines are called "Meslalla" which means green olives. This recipe is the simplest version with a pure flavor dominated by saffron and olives. The smell of saffron feels like home in a Moroccan family kitchen.
What is a "Tagine"?
Tagine is usually a slow cooked meal. When I was traveling in the Haute Atlas mountain in Morocco, I was always looking forward to our next lunch at a small village "tavern". Tagines were sitting above the oven, slowly cooked for hours, and full of flavor. Though you will find often couscous grains served with Tagines in American restaurants, we encourage you to do it the original way, and just using bread. Bread is perfect to dip in the rich sauce.
Tagine Culinary Spice Kit Ingredients:
[1] Ginger, black pepper, turmeric, saffron
[2] Paprika, cumin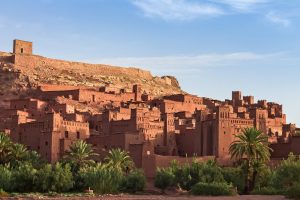 In a large POT, heat 2 tbsp oil. Add cabbage, garlic, salt to taste, and Tagine Spices [1], sauté 2 minutes over medium heat, stirring constantly.

Add 2 cups of water, mix well, and bring

to boil. Turn heat to medium-low. Cover and cook 30 minutes, stirring occasionally.

Add potatoes, olives, lemon juice, and Tagine Spices [2]. Mix well, cover, and bring to boil. Turn heat to medium. Simmer for about 15 minutes, until potatoes are cooked and sauce thickened, last 5 minutes without cover.