Butter Chicken is made with makhani masala ("butter sauce"), a mild tomato based Indian curry sauce with cream and butter. It is not very spicy though you will taste a spicy note.
Instead of chicken, tofu or potatoes are tasty as well with this basic curry. For vegetables we recommend cauliflower or green beans.
Vegetarian Makhani Curries
Vegetarian Masala
Green Beans and Potatoes
For a vegan curry, the diary products can be substituted with coconut milk and oil.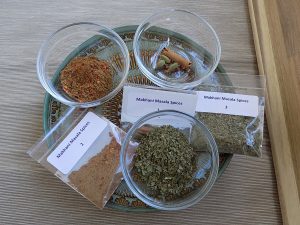 The Makhani Masala Culinary Spice Kit includes the following spices:
Pouch 1: Cinnamon, green cardamom, cloves
Pouch 2: Garam masala, coriander
Pouch 3: Fenugreek leaves
Pouch 4: Chili flakes