Zabaione – Italian Oriental Valentines Dessert
Zabaione is an Italian dessert made from whipped egg yolks, sugar, and sweet wine (e.g. Marsala). This Valentines variation is seasoned with rosebud, cinnamon, and cardamom. The wine is partly substituted with raspberries. You can also go completely alcohol free.
Oriental Seasoned Fruity Zabaione Dessert
Make a great dessert with only a few ingredients and a quick preparation. Make sure to serve Zabaione instantly after finishing. Hot it's best!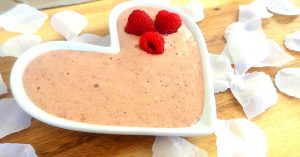 It's up to you how sweet you like it. For more sweetness use a sweet wine and 3 tbsp sugar. For a more fruity note, use 2 tbsp sugar and a dry white wine.
Ingredients for 2:
3 egg yolks
2-3 tbsp sugar
2 tbsp wine (or substitute with juice and adapt sugar amount)
1/2 cup raspberries
Seasoning: Valentines Spices [1] from the SpiceBreeze January box, including rosebud powder, cinnamon powder, and ground cardamom pods. Optional create your own blend with small amounts of these spices.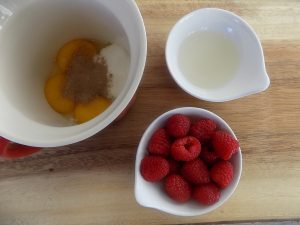 Kitchen Tools
The right kitchen tools are very important here.
1. a pot large enough to fit the cup
2. a large porcelain cup that fits in the pot, leaving some space for water around the cup (*)
3. a hand mixer
How to Make Your First Zabaione
The preparation of Zabaione is really simple and done in short time.


1. In the POT, fill half way water, and heat.
2. In the CUP(*), add egg yolks, sugar, and seasoning. Mix. Add wine and raspberries. Mix.
3. Carefully, place CUP in the POT.
Now it needs just a bit of patience.
4. Slowly heat up the water. Constantly mix the dessert in the cup at low speed.
5. When the dessert is really hot (it shall not boil!) mix it on high speed until it raises and triples in volume.
Pour in little dessert cups. Serve immediately.
Special Take
If you want to go fancy, serve Zabaione over 1 tbsp vanilla ice cream.
——————————————–
(*) Note: If you want to make it perfect, instead of the cup, use a bowl that you can hang into the pot without touching it the bottom of the pot.